The aim of this integration is to make accessible signals and resources of any LON based system (HVAC Control, Air Conditioning, etc.) from any system capable to be programmed to read and write simple text messages through RS232 serial port or TCP/IP connection (for example AMX, Creston, Extron or LiteTouch controllers, PC software, etc.).
For this, IntesisBox acts as a LON device in its LON interface, reading/writing points of other LON devices of the LON system, and offering this point's values through its ASCII interface using simple text messages. The readings into the LON device(s) performed by IntesisBox are by continuous polling.
From the LON system point of view, after the start-up process, IntesisBox reads continuously the points configured to be read, by polling, into the LON devices defined. The values received are immediately updated in memory and become available to be read by the ASCII enabled control system in any moment.
IntesisBox is a LON client device, this means that no LON points of IntesisBox can be accessed from other LON devices connected to the LON network (no bindings are allowed by IntesisBox), IntesisBox just offer in its ASCII interface a mirror of those remote LON device's points declared into it, allowing also writings of these LON device's points from the ASCII interface.
As for the ASCII side, after the start-up process, IntesisBox waits for any query (ASCII message requesting reading of a point, or ASCII message requesting writing of a point), and acts accordingly with the message received. Any point into IntesisBox can be also configured to notify to the ASCII side any change of value received from LON, by means of a spontaneous text message sent through the ASCII interface.
I'd like to inquire about the LonWorks to ASCII Gateway (discontinued) IBOX-ASCII-LON-A/B (A = 500 points and 64 devices, B = 4000 points and 128 devices ). Please provide me with a quote for this product.
Specifications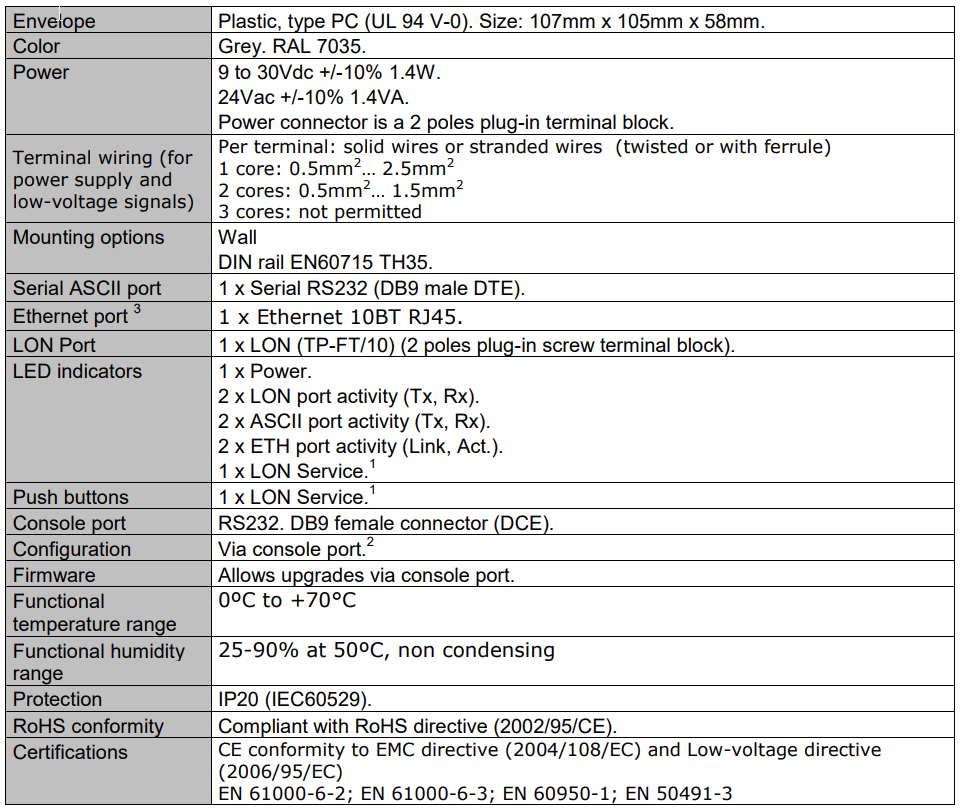 Dimensions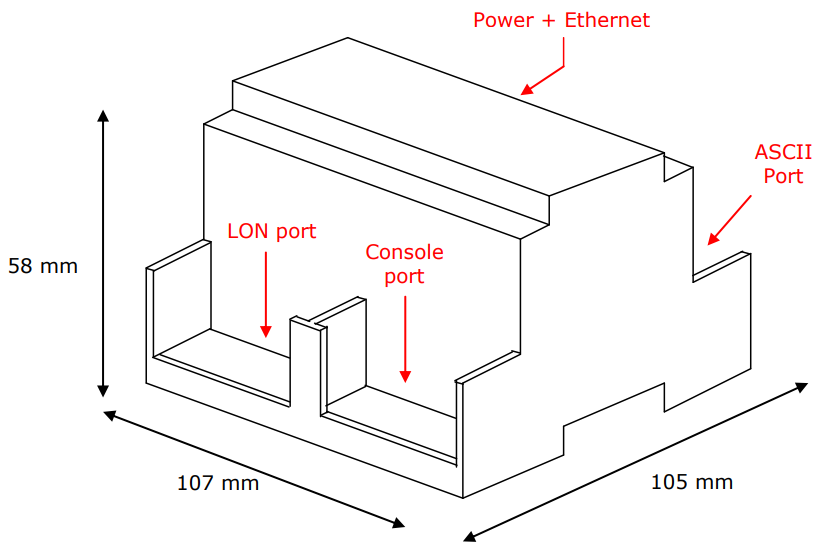 Recommended available space for its installation into a cabinet (wall or DIN rail mounting), with space enough for external connections: