The S4 Open: BACnet-N2 Router from the S4 Group creates flexibility and cost savings in Building Automation systems. The BACnet-N2 Router from the S4 group is the gateway to third-party product integration into the Metasys® N2 environment, enables seamless BACnet integration with N2 networks, Ethernet compatibility, and introduces cost saving in virtually every upgrade, maintenance, or replacement on the N2 bus. The N2 Router can support from 16 to 256 devices depending on the model purchased.
Key Benefits of the BACnet-N2 Router
Ability to bring many N2 buses in a large complex building into one virtual N2 Network©. The S4 Open Appliance acts as the bus master for each Bus and allows independent adjustment of polling rates and other parameters.

Standard vendor tools are used to configure N2 devices on each N2 bus.

Automatically locates and identifies new devices and their Process Points on the N2 bus.

All points on all N2 busses are displayable through the management console.

N2 interfaces can be extended over Ethernet - TCP/IP connections

N2 interfaces can be extended over wireless connections

Filtering and point mapping allow you to expose only a subset of the active points to upstream supervisory controllers (NCM, N30, FX, or Metasys Extended systems) through the Virtual N2 Network©.
I'd like to inquire about the S4 OPEN: BACNET-N2 ROUTER S4O-BACnet-N2-XXXX-XX-XX-X. Please provide me with a quote for this product.
Specifications
General
Certification: CE, FCC, UL, CCC, BSMI
Dimensions (WxDxH): 190 x 107 x 47 mm (7.5" x 4.2" x 1.8")
Form Factor: Small Size
Enclosure Aluminum: Housing
Mounting: Stand, Wall, DIN-rail (Optional), VESA (Optional)
Weight (Net): 1.0kg (2.2lbs)
Power Requirement: 24VDC ±15%
Power Consumption : 14W (Typical), 47.3W (Max) Advantech Linux
Environment
Operating Temperature: -10~60°C (14~140°F) @5~85% RH with 0.7m/s airflow
Storage Temperature: - 40~85°C (-40~185°F)
Relative Humidity: 10~95% RH @40°C, non-condensing
Shock Protection: Stand, Wall, DIN-rail (Optional), VESA (Optional)
Vibration Protection: Stand, Wall, DIN-rail (Optional), VESA (Optional)
Ingress Protection: IP40
System Hardware
BIOS: AMI UEFI 32Mbit Flash BIOS
Watchdog Timer: Programmable 255 levels timer interval, from 1 to 255 sec
Processor: AMD® G-series T40E 1.0GHz dual core
System Chip: AMD® A50M FCH
Memory: On-board 2GB DDR3 1066 MHz
Graphics Engine: AMD Radeon™ HD 6250 DirectX® 11 graphics with UVD 3.0 2D/3D Accelerator
Ethernet: Realtek RTL8111E, Marvell 88E6172 Giga Ethernet switch with daisy chain technology
LED Indicators: LEDs for Power, battery, LAN (Active, Status) and HDD
Storage: One mSATA drive
Expansion: 1 x Full-size mPCIe slot, mPCIe 2.0 (supports SIM card)
Installation Scenario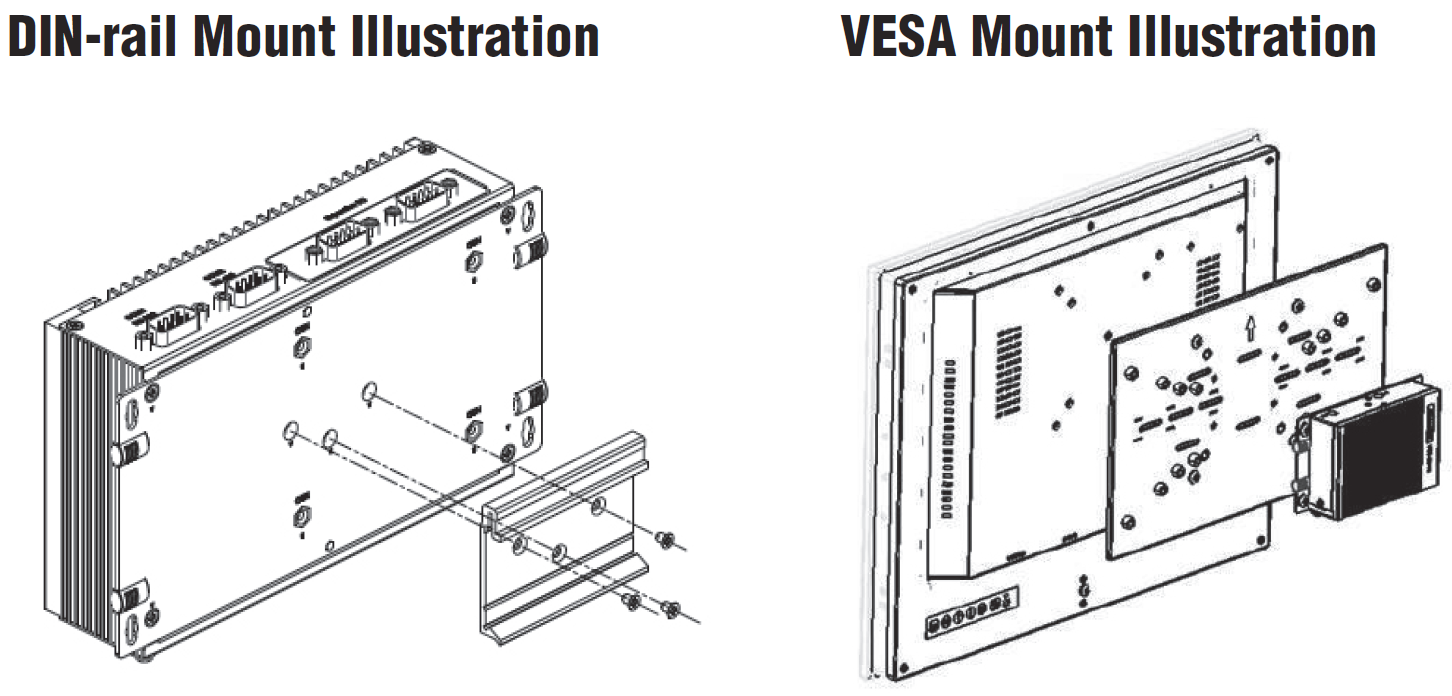 I/O Interfaces
Serial Ports: 1xRS-232, DB9, 50~115.2kbps. 1xRS-485, DB9, auto flow control, 50~115.2kbps
LAN Ports: 2xRJ45, 10/100/1000 Mbps IEEE 802.3u 1000Base-T Fast Ethernet
USB Ports: AMD® G-series T40E 1.0GHz dual core
Displays: 1xDisplayPort 1.1, supports 1920 x 1080 @60Hz. 1xHDMI v1.3, supports 1920 x 1080 @60Hz
Power Connector: 1x2 Pins, Terminal Block
Graphics Engine: AMD Radeon™ HD 6250 DirectX® 11 graphics with UVD 3.0 2D/3D Accelerator
Grounding Protection: Chassis Grounding
LED Indicators: LEDs for Power, battery, LAN (Active, Status) and HDD
Storage: One mSATA drive
Expansion: 1 x Full-size mPCIe slot, mPCIe 2.0 (supports SIM card)
Dimensions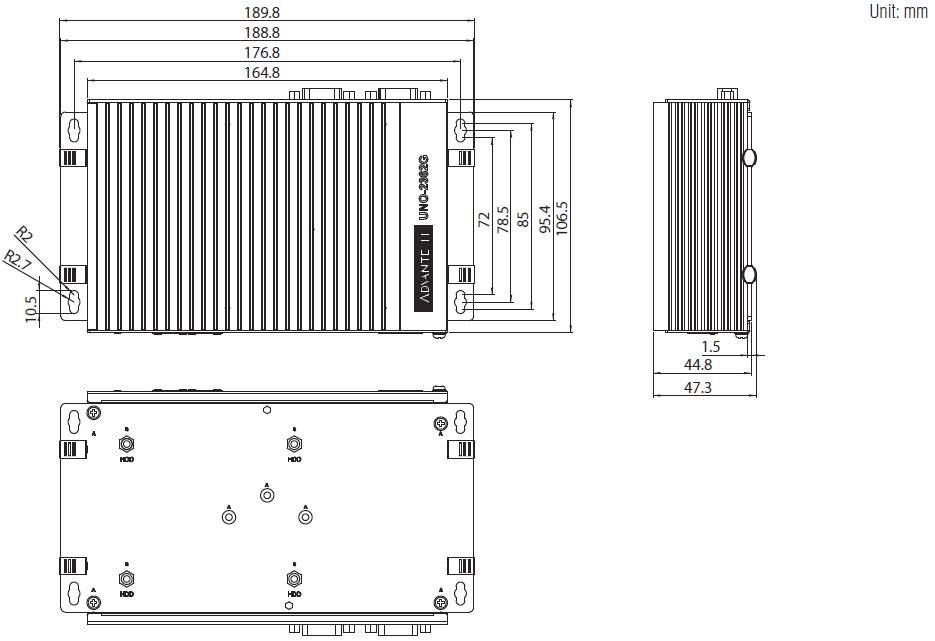 Front I/O View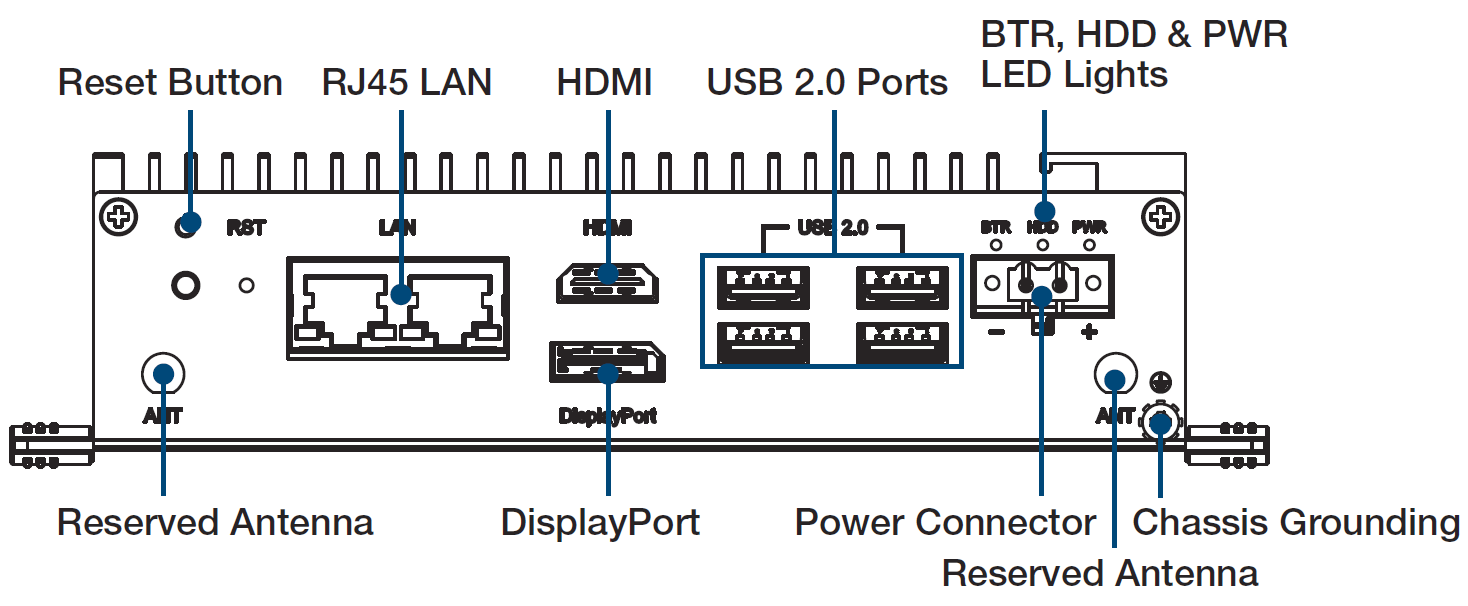 Rear I/O View