Chipkin is the Official authorized service provider for GE lighting controls and an active distributor of their LightSweep System. We are also experts in legacy and current GE lighting control systems and provide a wide range of products and services. Click here to see our full range of GE Lighting Solutions
GE RR9P relays are mechanical latching-type devices for direct plug-in to a GE Lighting Automation Panel. Pilot contact provides status feedback through LED indicators mounted on RINTERxxyy. They require only momentary 24 volt rectified AC switch circuit pulses to open or close line voltage circuits. Coil design resists burnout that could occur if equipment or operational failure energized the relay for an extended period of time. All GE low voltage relays may be used to full rated capacity for tungsten filament, ballast or resistive loads.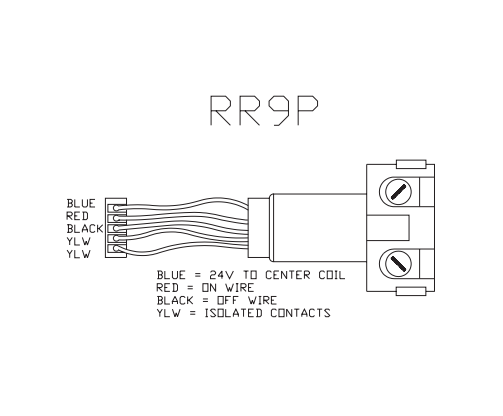 I'd like to inquire about the RR9PBP - Latching Relay With 5-Pin Connector RR9PBP. Please provide me with a quote for this product.
Specifications
Description: Latching Relay with Plug in Connector, Pilot Contacts.
Catalog #: RR9P
Operating Environment: 0-60 Degrees C (32-140 F) 10-95% RH, Non Condensing, Non corrosive atmosphere, Non explosive atmosphere
Rated Capacity:

Lamp Load - 20 amp Tungsten Filament 125 VAC 30 amp Ballast 277 VAC Set via rotary dials, Address range: 1 to 99
Resistive Load - 30 amp 277 VAC
Motor Load - 1/2 HP @ 110-125 VAC, 1 1/2 HP @ 347 VAC

Codes: UL Listed, CSA Certified; NEC Compliant 10 kA SCCR (277V max)