FieldServer BACnet Routers
The BACnet Router (FS-ROUTER-BAC) offers a complete BACnet solution for BACnet/IP, BACnet Ethernet, and BACnet MS/TP networks while providing a secure connection to the cloud.
Please CONTACT US for a free consultation.
Multiple BACnet routing connections can be established:
BACnet MS/TP to BACnet/IP
BACnet MS/TP to BACnet Ethernet
BACnet MS/TP to BACnet MS/TP
BACnet/IP to BACnet/IP
BACnet/IP to BACnet Ethernet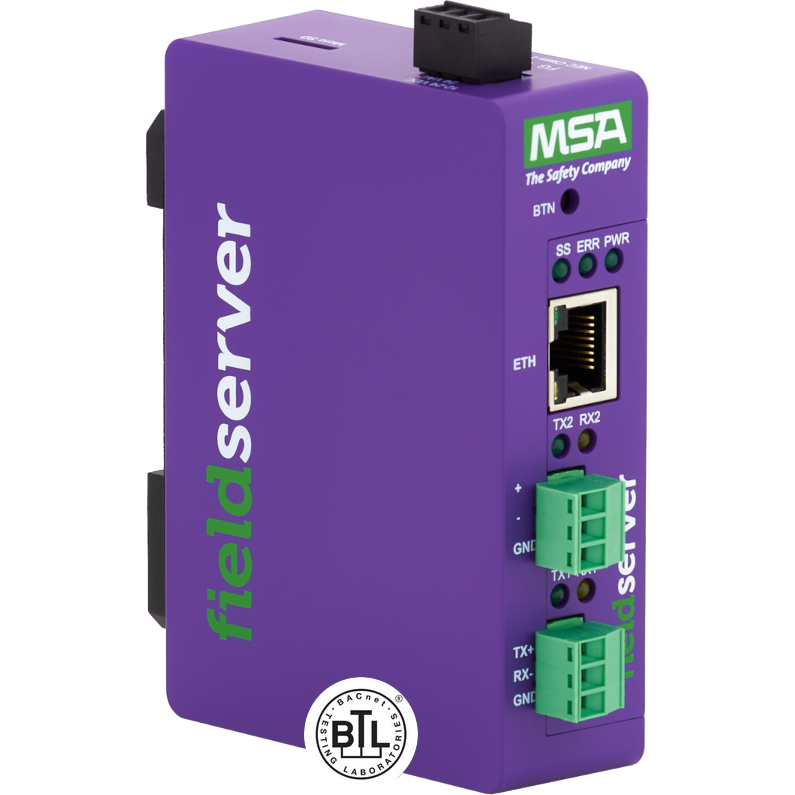 Key Features
Ease of Use
BACnet Explorer: discovers devices connected to the FieldServer BACnet Router.
BACnet Broadcast Management Device (BBMD) for a connection between different subnets, up to 50 devices supported on the Broadcast Distribution Table (BDT).
Web-Based configuration with no additional software needed for configuration.
NAT support with secondary BACnet/IP connection for routing between public and private IP networks.
Foreign Device Registration (FDR), exposing up to 147 devices details on different subnets.
SMC Cloud registration connects your devices to the cloud, allowing secure remote access for diagnostics, monitoring, alarming and configuration.
Onboard diagnostics allow easy troubleshooting for both serial and Ethernet communications.
Ease of Installation
MDIX to use any Ethernet cable for commissioning and installation.
DHCP to automatically obtain the IP setting from the network.
Software "ToolBox" to find and diagnose all FieldServer BACnet routers on the network.
A wide range of input power requirements, AC or DC.
Products
The FieldServer BACnet Router is available in two models: the dual-port version and the single-port version. Chipkin also supplies other BACnet routers, such as the Contemporary Controls BASRT-B Router and the IntesisBox BACnet Router. See below: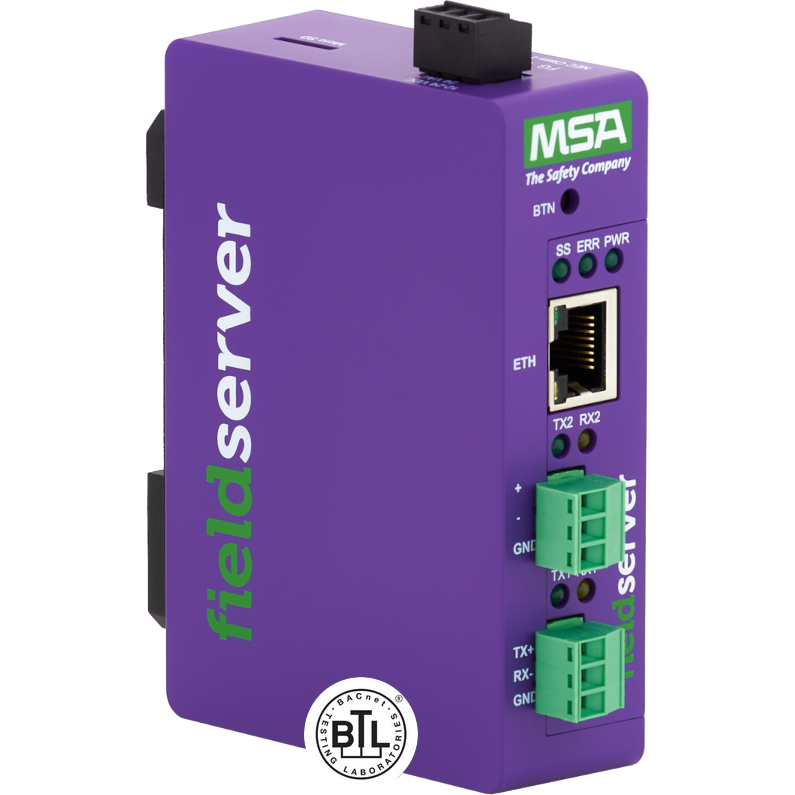 FST BACnet Router
(Dual Serial Port)
FS–ROUTER–BAC2
Ports: Two RS485 and One Ethernet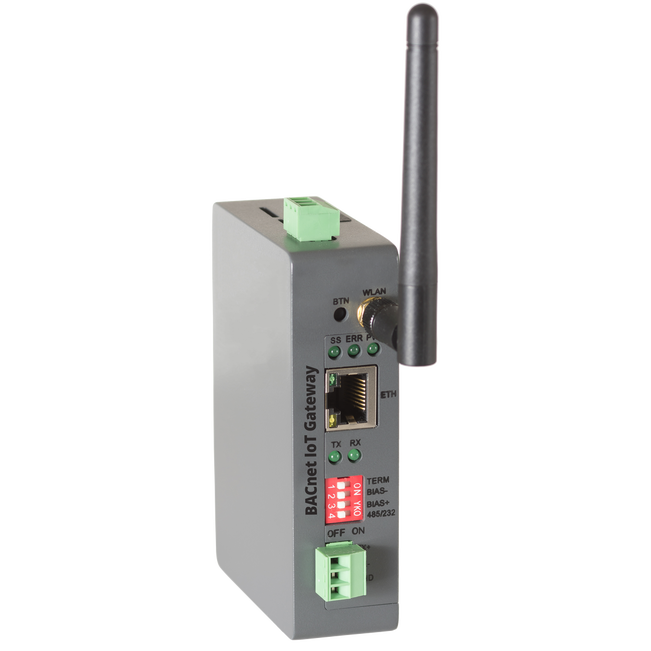 FST BACnet Router Wifi
(Dual Serial Port)
FS–ROUTER–BAC1
Ports: Two RS485 and One Ethernet with Wifi
Specifications
Environment
Operating temperature: -20 to 70C (-4 to 158F)
Relative humidity: 10-95% RH non-condensing
Power Requirements
Input: 24VAC 0.125A, 12-24VDC 0.25A @12 VDC
Power Max: 3W
Physical Dimensions (HxWxD)
Dimensions (HxWxD): 4 x 1.1 x 2.7 in (10.16 x 2.8 x 6.8cm)
Weight: 0.4 lbs (0.2 Kg)
Other
Web configuration
Onboard diagnostics
DIN rail mount included
Communication
Serial (Galvanic Isolation):
2 x RS-485
Baud: 9600, 19200, 34800, 57600, 76800
Ethernet
Approvals
CE
FCC: Class B and C part 15
UL 60950
IC Canada
RoSH and WEEE Compliant
Manuals, Datasheets, & Resources
The dual-port BACnet Router has two RS-485 ports, enabling connection to up to 64 BACnet devices without the use of additional line drivers. Using a BACnet router frees up valuable RS-485 ports on expensive BACnet Controllers and reduces the cost of connecting BACnet MS/TP devices to a BACnet/IP backbone. Compared to single-port BACnet routers, our dual-port BACnet router can reduce the cost of device connectivity or double the speed of connected devices (half the response time).
As our entry-level and cost-effective BACnet solution, the single-port BACnet Router has one RS-485 port, enabling connection to up to 32 BACnet devices without the use of additional line drivers.
DeviceFind™, our unique discovery feature, allows the integrator to discover all the BACnet devices connected to the router with one push of a button, minimizing time required for successful commissioning. Complementing this feature is our diagnostic FieldServer Toolbox, which allows the user or integrator to view the status of and diagnose all the routers on the network.
Sierra Monitor's BACnet Router is the first standalone device in the industry to carry the BTL (BACnet Testing Laboratories) mark. BTL certification ensures the highest standard of BACnet integration and assures users that they are utilizing a high-quality BACnet product. The BTL mark indicates that our router has passed a series of rigorous independent laboratory testing and verifies that the product fully implements the BACnet features claimed. In addition, the BACnet Router is RoHS compliant, TUV approved to UL-916, and CSA, CE and FCC approved. For more information, please CONTACT US.