FieldServer BACnet Routers
What is a BACnet Router and how is it different that a BACnet Gateway? We often get clients confused weather they need a Router or a Gateway. BACnet Routers transmit messages between BACnet Networks as well as between different BACnet Subnets. Data transmissions occurs indiscriminately between one BACnet flavor to another or within multiple BACnet Subnets. There is no configuration of data mapping to achieve a conversion. The Router transmits all messages it receives and relays them as they come.
A gateway on the other hand, acts as a protocol translator of sorts. It takes data from one protocol (such as Modbus, OPC UA, DNP3 etc.) and converts it to a different protocol. Gateways often need to be configured to map the desired messages. Gateways are substantially more complicated than Routers and come at a higher price.
The BACnet Router (FS-ROUTER-BAC) offers a complete BACnet solution for BACnet/IP, BACnet Ethernet, and BACnet MS/TP networks while providing a secure connection to the cloud.
Please CONTACT US for a free consultation.
Multiple BACnet routing connections can be established:
BACnet MS/TP to BACnet/IP
BACnet MS/TP to BACnet Ethernet
BACnet MS/TP to BACnet MS/TP
BACnet/IP to BACnet/IP
BACnet/IP to BACnet Ethernet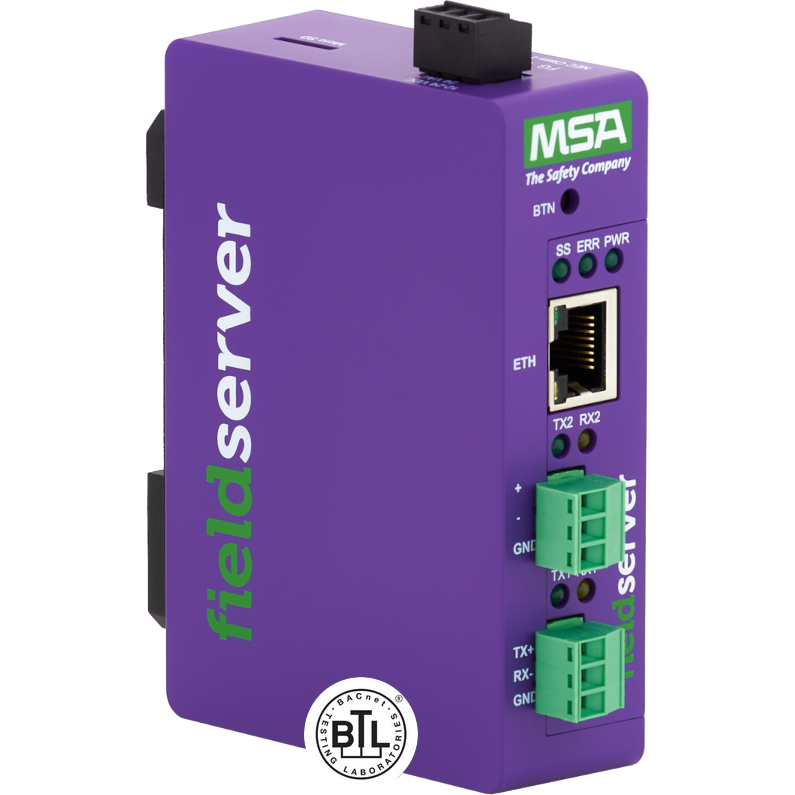 Key Features
Ease of Use
BACnet Explorer: discovers devices connected to the FieldServer BACnet Router.
BACnet Broadcast Management Device (BBMD) for a connection between different subnets, up to 50 devices supported on the Broadcast Distribution Table (BDT).
Web-Based configuration with no additional software needed for configuration.
NAT support with secondary BACnet/IP connection for routing between public and private IP networks.
Foreign Device Registration (FDR), exposing up to 147 devices details on different subnets.
SMC Cloud registration connects your devices to the cloud, allowing secure remote access for diagnostics, monitoring, alarming and configuration.
Onboard diagnostics allow easy troubleshooting for both serial and Ethernet communications.
Ease of Installation
MDIX to use any Ethernet cable for commissioning and installation.
DHCP to automatically obtain the IP setting from the network.
Software "ToolBox" to find and diagnose all FieldServer BACnet routers on the network.
A wide range of input power requirements, AC or DC.
Products
The FieldServer BACnet Router is available in two models: the dual-port version and the single-port version. See below: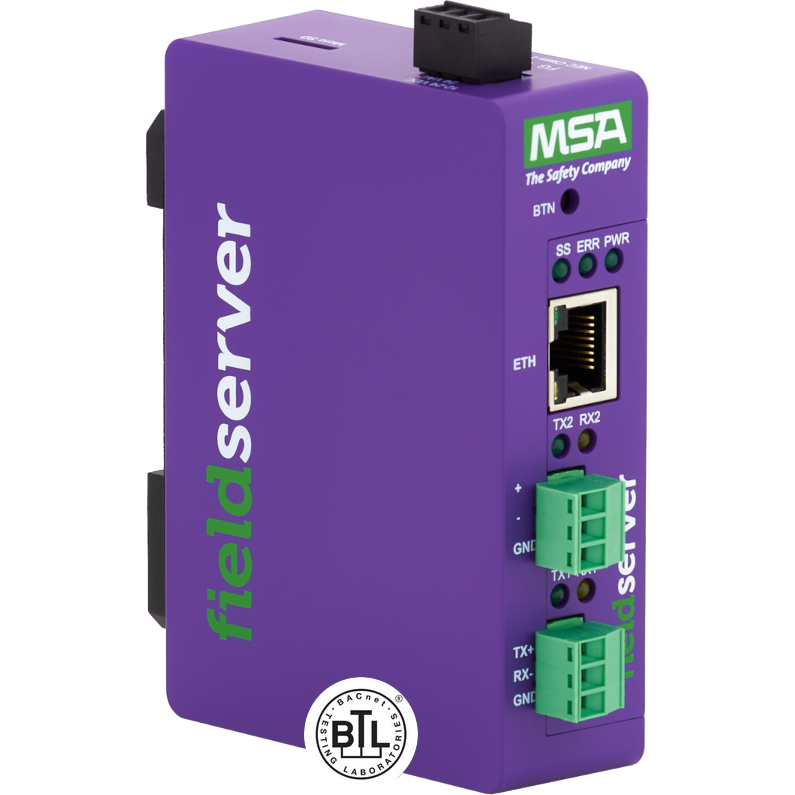 FST BACnet Router
(Dual Serial Port)
FS–ROUTER–BAC2
Ports: Two RS485 and One Ethernet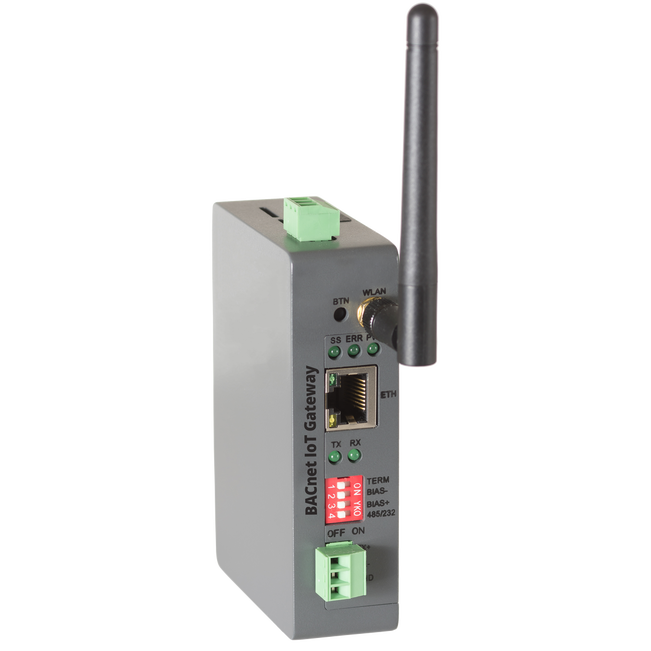 FST BACnet Router Wifi
(Dual Serial Port)
FS–ROUTER–BACW
Ports: Two RS485 and One Ethernet with Wifi
Specifications
Environment
Operating temperature: -20 to 70C (-4 to 158F)
Relative humidity: 10-95% RH non-condensing
Power Requirements
Input: 24VAC 0.125A, 12-24VDC 0.25A @12 VDC
Power Max: 3W
Physical Dimensions (HxWxD)
Dimensions (HxWxD): 4 x 1.1 x 2.7 in (10.16 x 2.8 x 6.8cm)
Weight: 0.4 lbs (0.2 Kg)
Other
Web configuration
Onboard diagnostics
DIN rail mount included
Communication
Serial (Galvanic Isolation):
2 x RS-485
Baud: 9600, 19200, 34800, 57600, 76800
Ethernet
Approvals
CE
FCC: Class B and C part 15
UL 60950
IC Canada
RoSH and WEEE Compliant
Manuals, Datasheets, & Resources
The dual-port BACnet Router has two RS-485 ports, enabling connection to up to 64 BACnet devices without the use of additional line drivers. Using a BACnet router frees up valuable RS-485 ports on expensive BACnet Controllers and reduces the cost of connecting BACnet MS/TP devices to a BACnet/IP backbone. Compared to single-port BACnet routers, our dual-port BACnet router can reduce the cost of device connectivity or double the speed of connected devices (half the response time).
As our entry-level and cost-effective BACnet solution, the single-port BACnet Router has one RS-485 port, enabling connection to up to 32 BACnet devices without the use of additional line drivers.
DeviceFind™, our unique discovery feature, allows the integrator to discover all the BACnet devices connected to the router with one push of a button, minimizing time required for successful commissioning. Complementing this feature is our diagnostic FieldServer Toolbox, which allows the user or integrator to view the status of and diagnose all the routers on the network.
Sierra Monitor's BACnet Router is the first standalone device in the industry to carry the BTL (BACnet Testing Laboratories) mark. BTL certification ensures the highest standard of BACnet integration and assures users that they are utilizing a high-quality BACnet product. The BTL mark indicates that our router has passed a series of rigorous independent laboratory testing and verifies that the product fully implements the BACnet features claimed. In addition, the BACnet Router is RoHS compliant, TUV approved to UL-916, and CSA, CE and FCC approved. For more information, please CONTACT US.
FREE CAS BACNET EXPLORER WITH THE PURCHASE OF A BACNET ROUTER!
Purchase any BACnet product from us and we will help you test and document the BACnet interface by providing a free full license to the CAS BACnet Explorer and a Hardcopy of the BACnet booklet.
The 2 year Software key and booklet will be provided with the purchase of the Router.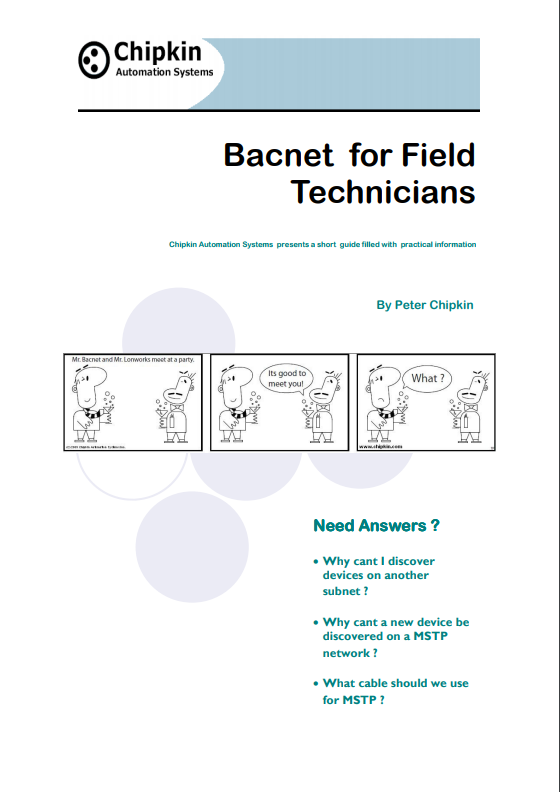 Learning about BACnet? Want to update your BACnet knowledge? This free EBook will guide you through basic and advanced BACnet topics.
You can purchase a hardcopy of this book from Amazon or you can download the BACnet for Field Technicians for free from our website.
CAS BACnet Explorer is the perfect utility for testing, debugging, and discovering BACnet® networks and devices. It is great for network diagnostics and discovering who is the problem. No more pointing fingers.
CAS BACnet Explorer performs the following functions within BACnet Networks:
Exploring/Discovering
Testing
Debugging
Monitoring