CAS Modbus Scanner

Download the Modbus Scanner FREE!! Or, for more information, CONTACT US!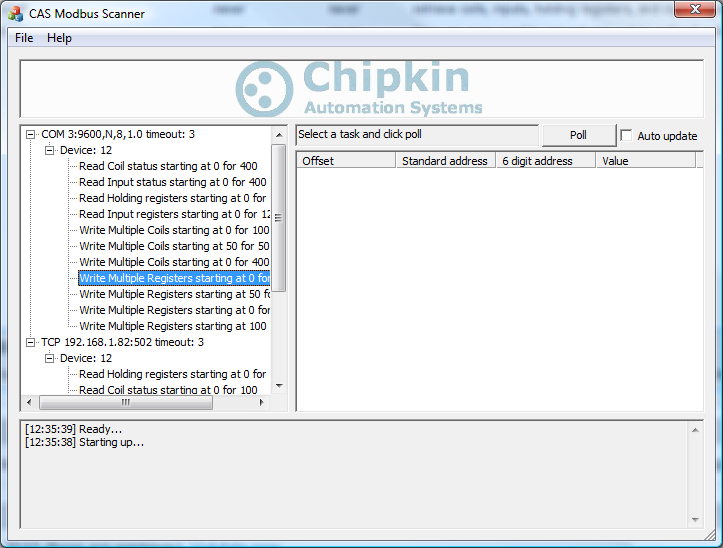 What is the CAS Modbus Scanner?
CAS Modbus Scanner is a utility to retrieve coils, inputs, holding registers, and input registers from a Modbus-enabled device. Values retrieved from the device can be viewed in many different formats, including Binary, HEX, Uint16, Int16, Uint32, Int32, and Float32.
This utility can also discover Modbus devices on your network if you do not know their address. It works by testing every address, function, length, and offset to check for exceptions or responses.
FEATURES
Can read; coil status (0xxxx), input status(2xxxx), input registers (3xxxx), and holding registers (4xxxx)
Data is viewable in Binary, HEX, Uint16, Int16, Uint32, Int32, and Float32
Discover devices on your network
Multiple connections
Tested with 100s of 3rd party Modbus devices
Works with RS232, RS485 and TCP
100% Free to use, no registration required
Easy user interface
Manuals, Datasheets and Resources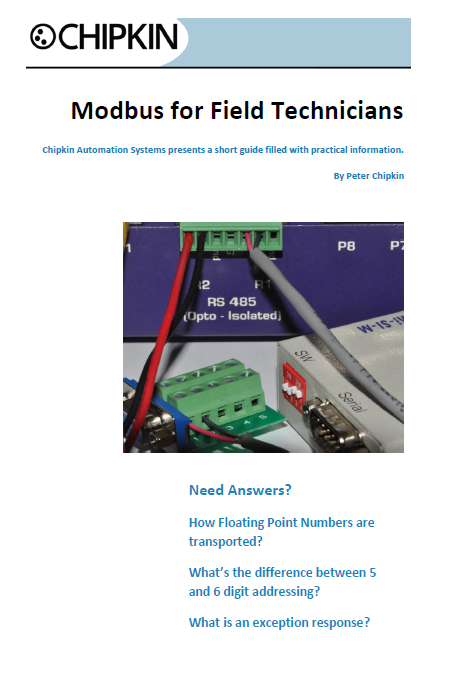 Learning about Modbus? Want to update your Modbus knowledge? This free EBook will guide you through basic and advanced Modbus topics.
You can purchase a hardcopy of this book from Amazon or you can download the Modbus for Field Technicians for free from our website.
APPLICATION and System Requirements
Use the CAS Modbus Scanner to find the correct port settings and the correct slave address. The tool automates the process of trying all the combinations and reports the results.
The tool works for RS232 and RS485 by allowing you to search for a single device or multiple slaves. To connect to a RS485 network from your laptop you simply need a USB-to-485 converter.
Windows 2000, XP, Vista, Windows 7 (32bit or 64bit), Windows 8 (32bit or 64bit), or Windows 10(32bit or 64bit)
10mb of free space
Modbus RTU requires an RS485 port. You will need to purchase a USB to RS485 converter (ACON U-01)
Thanks for choosing Chipkin's protocol gateways, data clients, and integration services to meet your building and industrial automation requirements!
Chipkin™ is a building and industrial automation protocol expert. We develop, configure, install and support gateways (protocol converters), data loggers and remote monitor and controlling applications. Founded in October 2000, Chipkin provides expert solutions for converting BACnet®, Modbus®, and LonWorks®—to name just a few—and enabling interfaces for HVAC, fire, siren, intercom, lighting, transportation and fuel systems. The high-quality products we offer (including those from other vendors) interface with Simplex™, Notifier™, McQuay™, GE™ and many others—so you can rest assured that we will select the most appropriate solution for your application.
With Chipkin you are buying a solution. Our configuration expertise in this field combined with free BACnet and other tools ensure your success; and our customer support via phone, e-mail, and remote desktop tools means that we're there when you need us. Chipkin is a small responsive company, and we live or die by the quality of our service—and with offices in two-time zones—we can provide support when you need it. Give us a call now!
Customer Support
Chipkin is proud to provide support for the products we sell. For technical support, sales, and customer service, please contact us at 1 (866) 383-1657