FieldServer Devices
Chipkin and FieldServer
Chipkin has worked with FieldServer Technologies Inc. since September 2000. Initially, Chipkin provided software engineering services and helped FieldServer develop its driver library. At one point over 40% of FieldServer's library had been developed by Chipkin. Our primary role changed from engineering development to 2nd tier tech support and now to preferred Distributor of FieldServer products. We sell, support, configure, and develop new drivers and add value to FieldServer devices.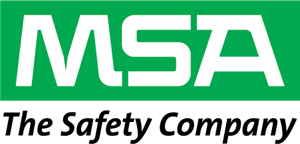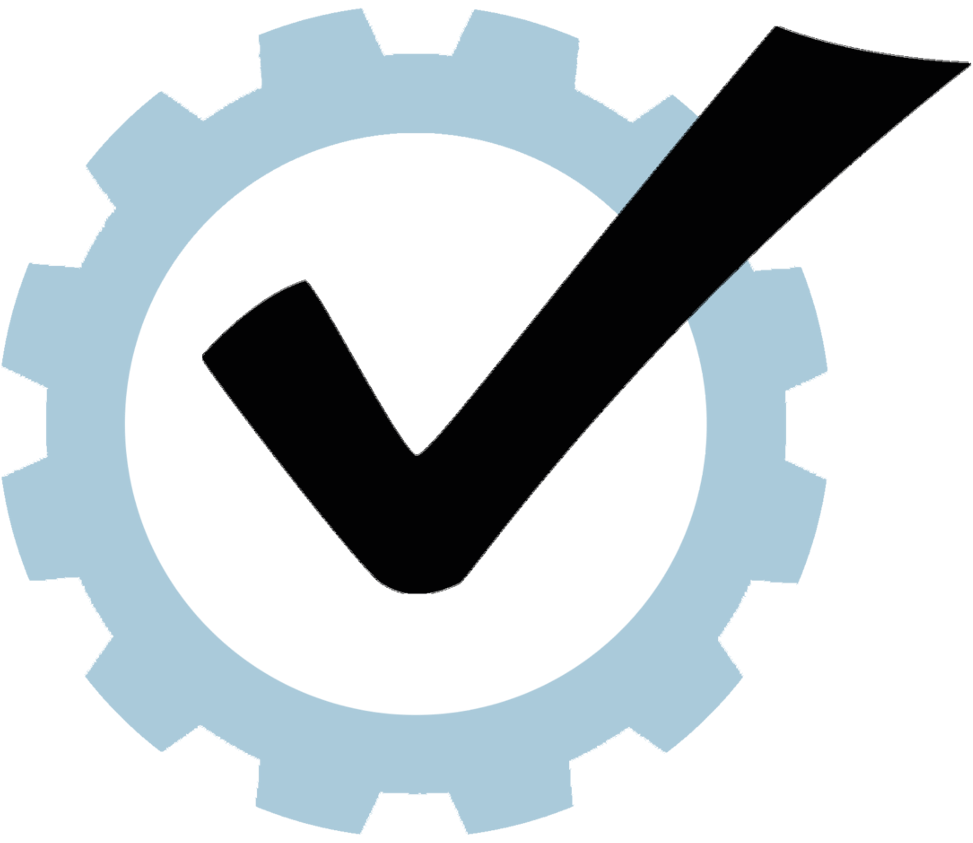 Chipkin is an Approved FieldServer Integrator
Based on the length of our business relationship and our in-house skills and experience, FieldServer Technologies has appointed Chipkin as an approved integrator. Chipkin was amongst the 1st group of integrators that FST approved. We can develop new protocol drivers for FieldServer products.
If you need to bring your product to the BAS market, we can help you by developing a driver custom built for you.
What can FieldServer Products Do for You?
FieldServer solves communication and protocol conversion problems and improves response times in distributed data acquisition and control systems. The FieldServer is available as:
A Protocol Converter, converting from one protocol to another in a variety of applications. Drivers are available for a wide range of protocols.
An Ethernet Gateway, enabling new and old PLCs, RTUs, and SCADA devices to link to Ethernet for plant-wide communications.
A Port Expander with one serial port, one Ethernet port and extensive modem and communications capabilities. The internal poll-block caching capability ensures that data from various PLC/RTU devices is immediately available to the SCADA devices when needed. Data can be cached from slower devices or remote units for immediate access by the host device.
A Scanner to connect a PC to a field node using serial or Ethernet ports. Modern PCs have few or no available slots for additional interface boards. The Scanner eliminates the requirement to plug an interface board into a PC to communicate to field nodes. An OPC driver simplifies Scanner configuration and communication.
An Embedded Board that meets OEM application requirements where the user needs to have a FieldServer included as part of their package as a single board addition. A PC104 connection is provided for power transfer.
A Remote Serial Port allowing serial data to be transported via Ethernet as TCP/IP packets.
Chipkin knows FieldServer products to source code level. We have developed over 40 drivers in the FieldServer Library. We have helped customers install and integrate thousands of devices. We know the protocols, we know the BAS products, we know instrumentation and automation and we even provide on-site integration services for those that rather not get involved at all.
FieldServer Products
Besides developing many of the libraries for FieldServer products, Chipkin also has proprietary libraries supported by the FieldServer Gateways. This allows Chipkin to offer a vast number of solutions. As we know FieldServer products to source code level, we are able to develop new libraries at customers' requests. If you do not see your protocol conversion mix on our website, please CONTACT US We may be able to put together a custom job for you.
Please see below for a list of FieldServer products:
QuickServers
The QuickServer (FS-QS-2XX0), the Dual Ethernet Port QuickServers (FS-QS-3XX0) and the Classic QuickServer (FS-QS-1XXX) are a family of high-performance, fully configurable, and cost-effective building and industrial automation protocol gateways. They are designed for integrators to easily interface devices to networks in commercial buildings, campuses, and industrial facilities.
Each QuickServer includes browser-based tools to make it easy to set-up the QuickServer and perform diagnostics including determination of status, network settings, node information, map descriptors and more. Additionally, a variety of tools are provided to discover and connect devices on your network.
These QuickServers come in a variety of models to handle different point counts. Basic handles (250 points) or enhanced between (500-5000 points). The classic QuickServer supports serial (RS485/RS232), Ethernet, and/or LonWorks/KNX/MBus communication.
The QuickServer, FS-QS-2XX0, series is an upgraded version of the Classic QuickServer. It is slimmer, more powerful, and able to support both RS232 and RS485 ports simultaneously for the classic, you required a specific model to handle RS232 Communication. Similar to the classic, the QuickServer is available at 4 different point capacities between 250 points to 5000 points. Each QuickServer can handle up to 140 different drivers, such as Modbus, BACnet, SNMP, EtherNet/IP and many more. Interested? Read More!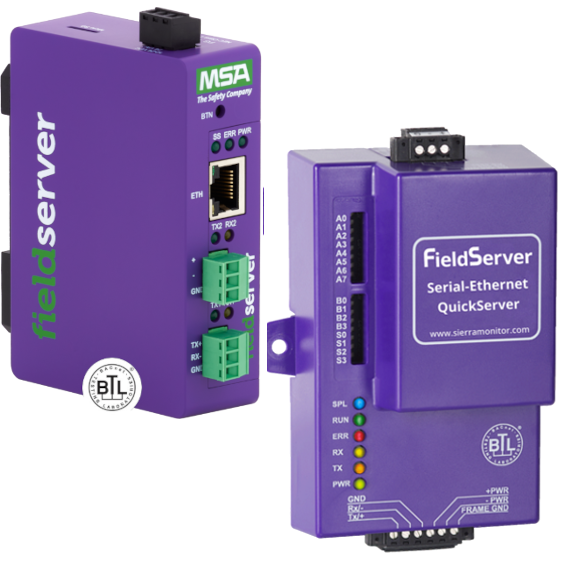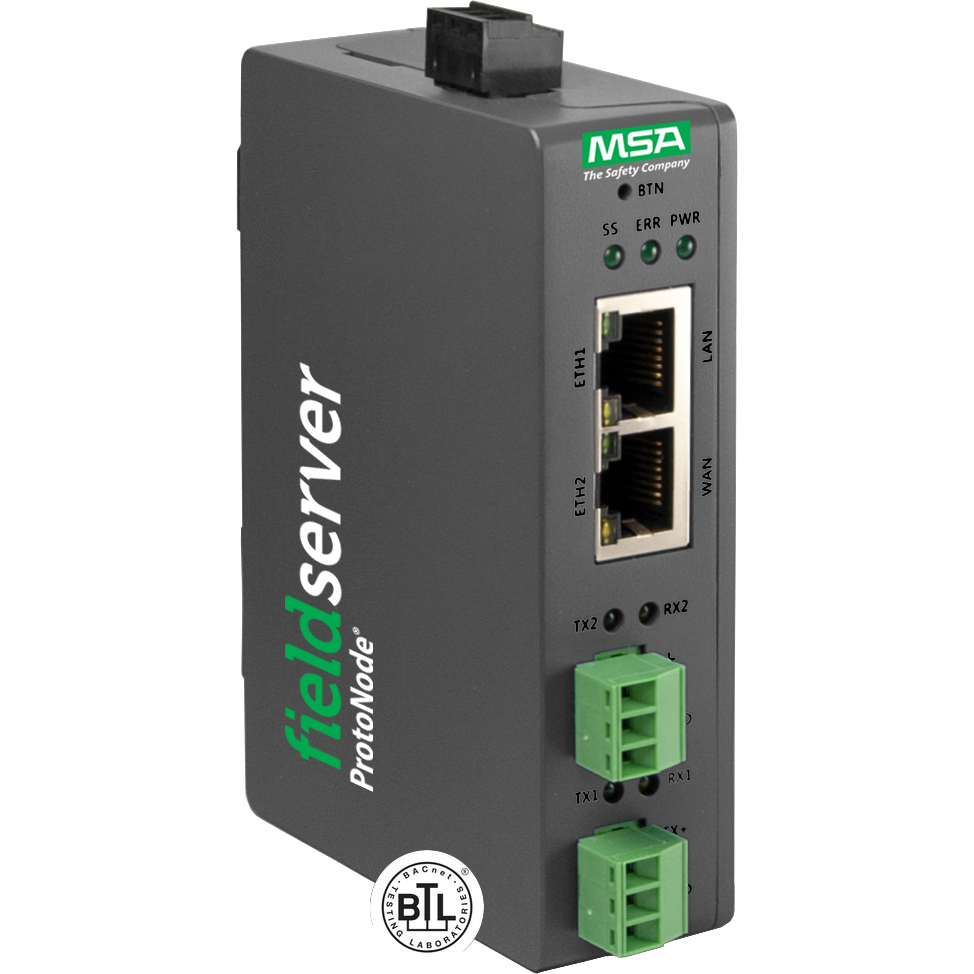 The Dual Ethernet Port QuickServer is the premium secure QuickServer for those needing the best and most secure networks. Besides being capable of handling everything that the classic QuickServer and the QuickServer can handle, it also contains 2 Ethernet ports, can convert up to 10,000 points and has a lot of new security features. It supports 1 RS-485/RS232 Port, 1 RS485 Port, and two Ethernet ports.
With two Ethernet ports, the dual-port QuickServer allows data to move seamlessly across disparate subnets allowing seamless integration with maximum security. Interested? Read More!
MSA Safety's ProtoAir IoT Gateways are fully integrated with the MSA Grid cloud platform. The gateways enable integrators to easily connect new and legacy devices to the cloud. These gateways can connect Serial, Ethernet, and I/O devices to the cloud via wired (Serial and Ethernet) and wireless (Wi-Fi and Cell Modem) installations.
When Integrators have any common protocol, the gateway can be used to connect to the MSA Grid without additional engineering investment. MSA Safety IoT Gateways support 140+ common protocols. Typical protocols include: Modbus, BACnet, EtherNet/IP, SNMP, and many others. The end devices can instantly be cloud enabled to support secure remote device monitoring, control, data collection and alarming. Interested? Read More!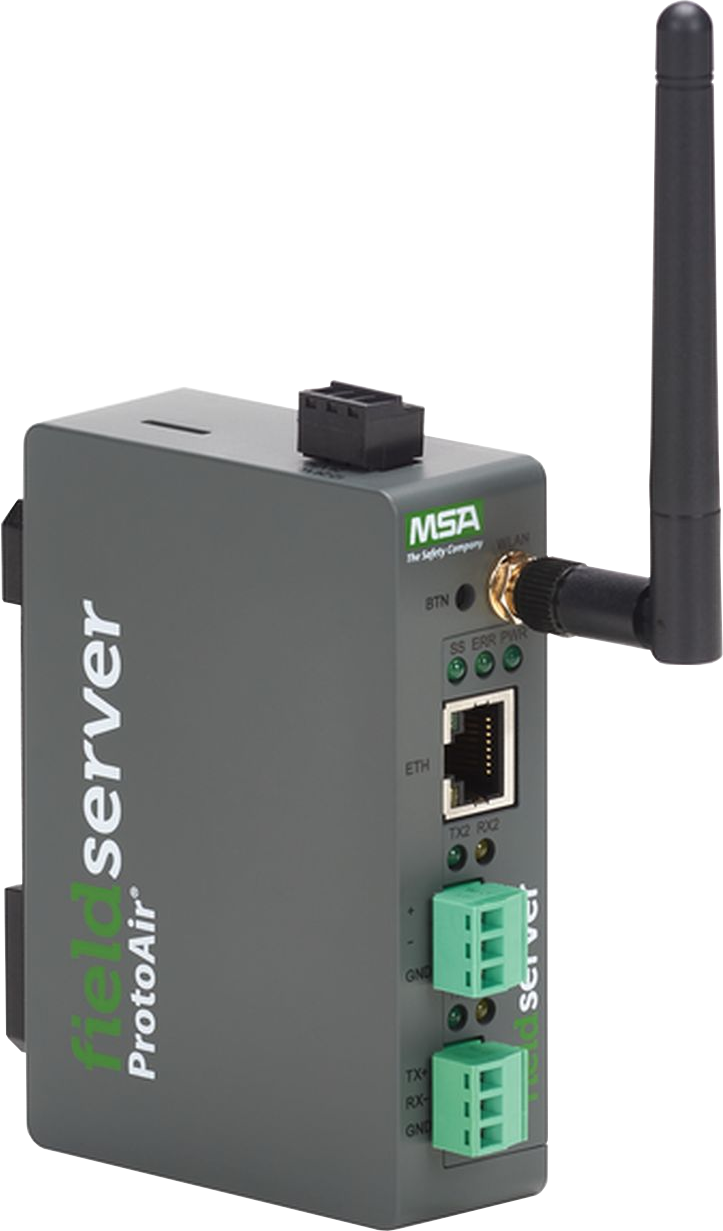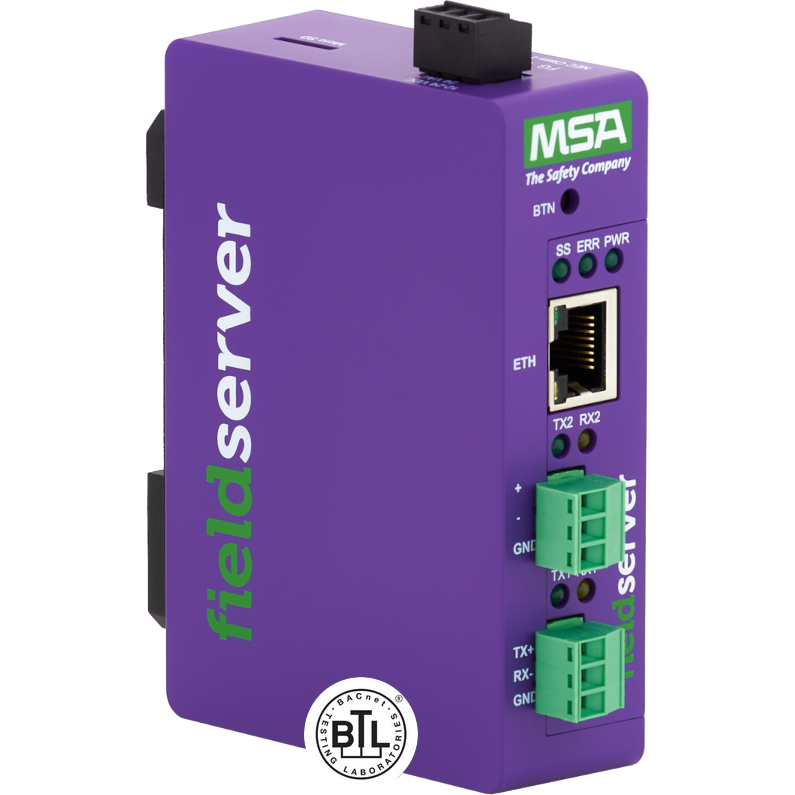 The EZ Gateways is an easy-to- use, high-performance, building and industrial automation protocol gateway for system integrators to be used in commercial buildings, campuses or industrial facilities.
The EZ Gateway provides quick multiprotocol deployment of field protocols to enable integrators to commission the gateway with ease.
The BACnet Router provides stand-alone routing between BACnet/IP, BACnet Ethernet and BACnet MS/TP.
BACnet utilizes the same protocol whether it is over RS-485 Serial, Ethernet or IP. In order to interconnect between the various levels a BACnet Router is required. The FieldServer BACnet Router can easily interconnect between BACnet MS/TP, BACnet Ethernet or BACnet/IP.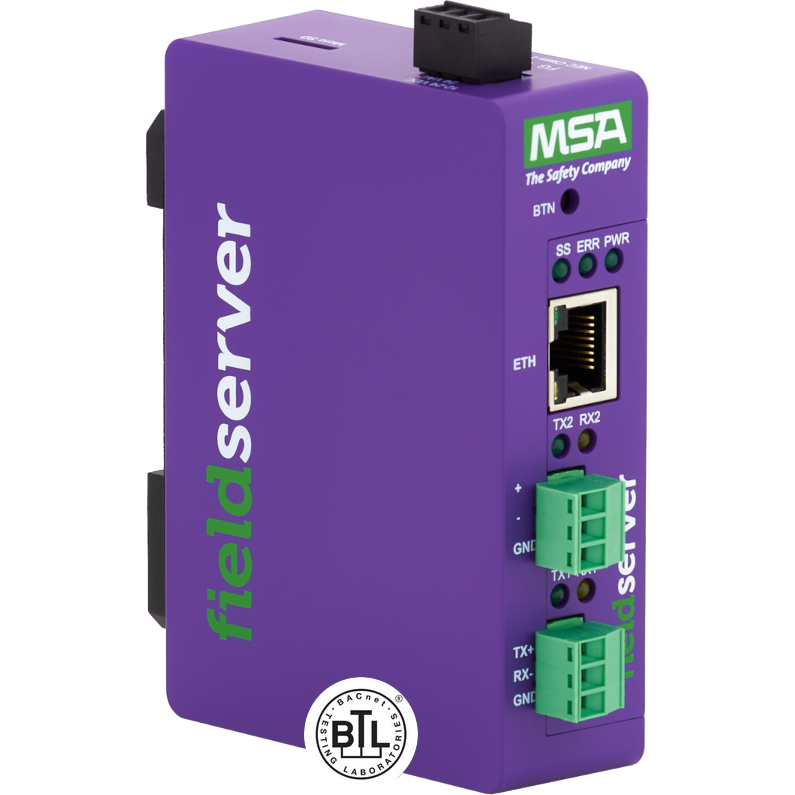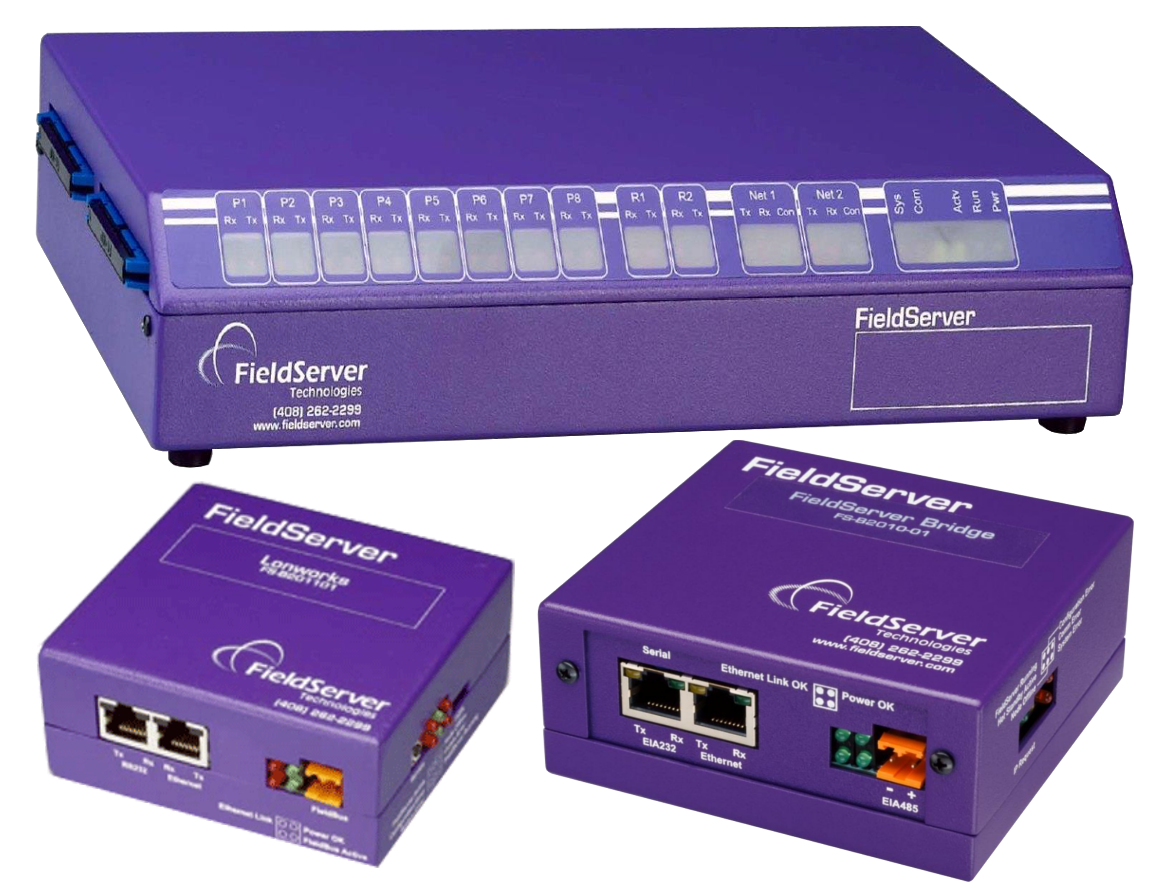 FREE CAS BACnet Explorer with the Purchase of a FieldServer!
Purchase a FieldServer from us that contains any BACnet protocol and we will help you test and document the BACnet interface by providing a free full license to the CAS BACnet Explorer. The booklet ships with the FieldServer.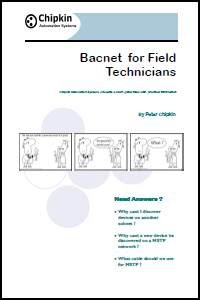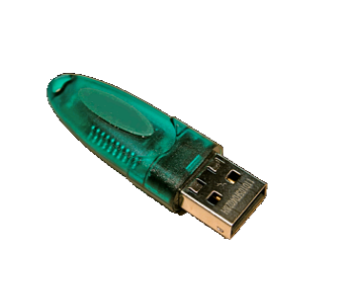 Thanks for choosing Chipkin's protocol gateways, data clients, and integration services to meet your building and industrial automation requirements!
Chipkin™ is a building and industrial automation protocol expert. We develop, configure, install and support gateways (protocol converters), data loggers and remote monitor and controlling applications. Founded in October 2000, Chipkin provides expert solutions for converting BACnet®, Modbus®, and LonWorks®—to name just a few—and enabling interfaces for HVAC, fire, siren, intercom, lighting, transportation and fuel systems. The high-quality products we offer (including those from other vendors) interface with Simplex™, Notifier™, McQuay™, GE™ and many others—so you can rest assured that we will select the most appropriate solution for your application.
With Chipkin you are buying a solution. Our configuration expertise in this field combined with free BACnet and other tools ensure your success; and our customer support via phone, e-mail, and remote desktop tools means that we're there when you need us. Chipkin is a small responsive company, and we live or die by the quality of our service—and with offices in two-time zones—we can provide support when you need it. Give us a call now!
Customer Support
Chipkin is proud to provide support for the products we sell. For technical support, sales, and customer service, please contact us at 1 (866) 383-1657