CAS BACnet Explorer

Buy the CAS BACnet Explorer: You can try the BACnet Explorer for free before you buy. CONTACT US!
INTRODUCTION
CAS BACnet Explorer is the perfect utility for Discovering, Exploring, Monitoring, Debugging, Testing, and Creating reports of your BACnet® networks and devices. It performs the following functions: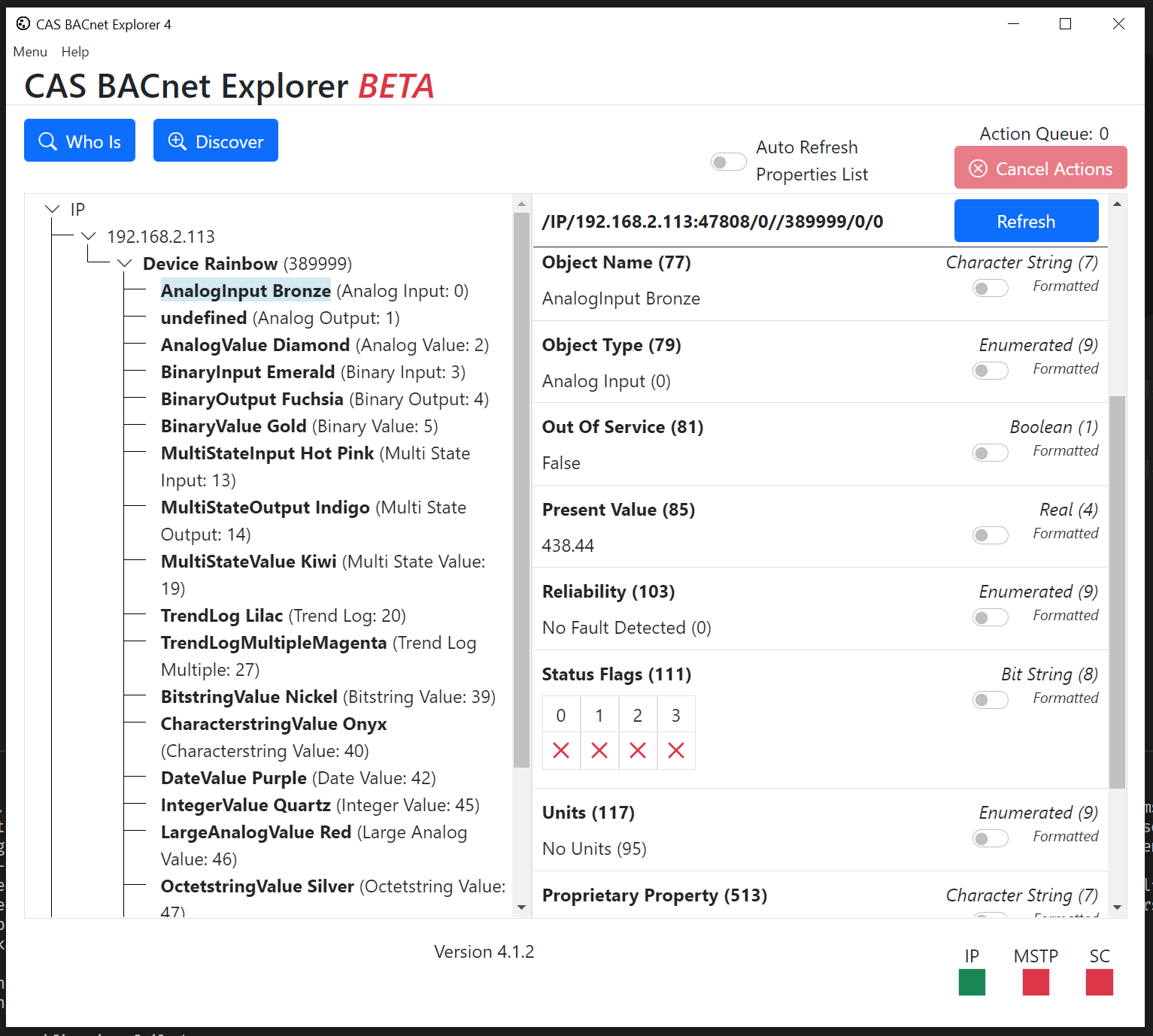 Exploring – Automatically discovers all the BACnet devices, objects, and their properties on your network. The objects and devices are arranged in an easy-to-use tree format.
Debugging – With the report function, you can document the current state of your BACnet® network. Never again ask yourself if a BACnet® device is on your network, and what value it has.
Monitoring – A monitoring table can be set up to check the present value or any other property of a BACnet® object, easily with a single glance.
Testing – The CAS BACnet Explorer allows you to write to the BACnet® points, turn lights on or off, generate alarms, ACK alarms, etc.
Downloads
Please read the License Agreement before downloading this utility.

Windows 64bit

Mac Coming Soon
Looking for the legacy CAS BACnet Explorer, Click Here!
FEATURES
The CAS BACnet Explorer supports the following features:
Supported BACnet networks

BACnet®/IP
BACnet®/SC (Secure Connect)
BACnet®/MSTP (Master/Slave/Token Passing)

Supports Windows 7 or later, and Ubuntu 18.04 or later
Discovery of BACnet devices
Custom rendering of BACnet properties
Generation of reports for offline documentation
Auto-refresh and monitoring
Supports BACnet protocol revision 20+
Supports BACnet commands
Time-Synchronization
Device Communication Control
Read-Property
Read-Property-Multiple
Write-Property
Write-Property-Multiple
Subscribe-COV
Cancel-Subscribe-COV
Create-Object
Delete-Object
Read-Range
Confirmed-Text-Message
Unconfirmed-Text-Message
Register-Foreign-Device
Discovery
The discovery feature is used to find and explore BACnet devices. The BACnet Explorer can send a simple BACnet Who-Is message to it and can perform a full network discovery of all BACnet devices, objects, and properties. This allows for a new level of flexibility when working with your BACnet Networks.
Once discovered, the BACnet devices and objects are displayed in a cascading network tree by BACnet network, device, and objects for simple organization and searching.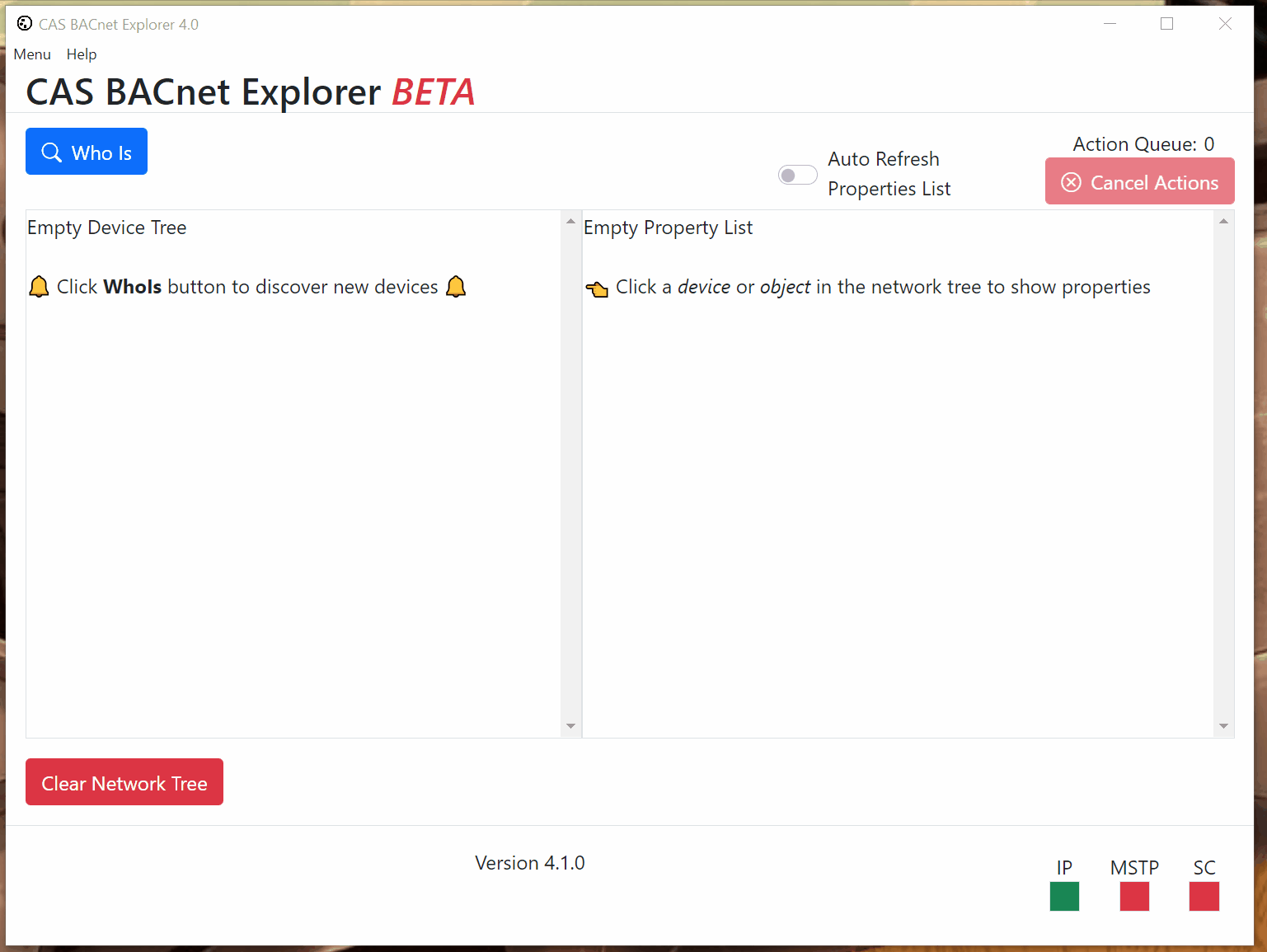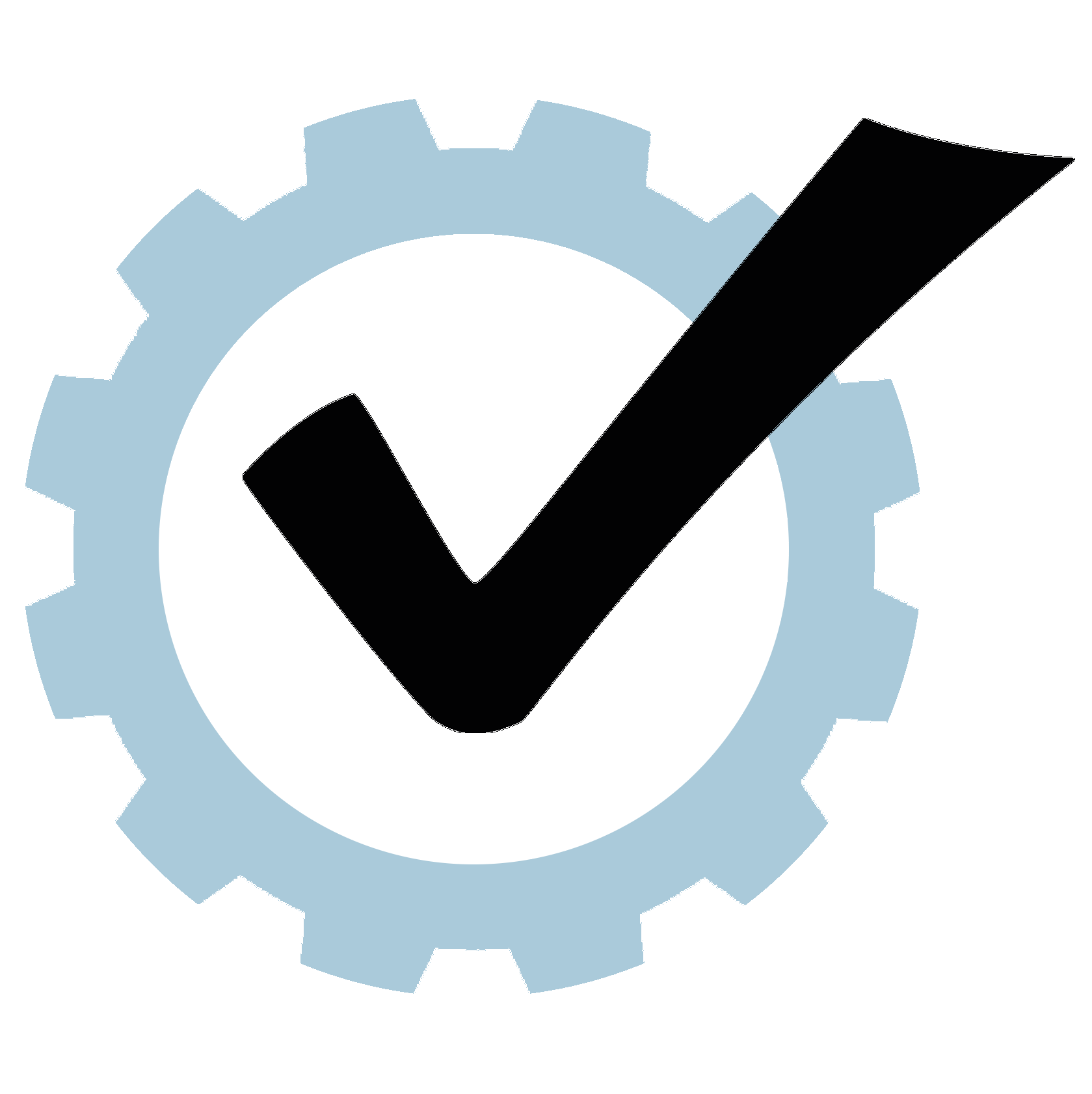 Testing
The CAS BACnet Explorer allows you to write to the BACnet points, turn lights on or off, generate alarms, ACK alarms, etc.
Custom rendering of properties
The properties of an object are rendered depending on its data type and property identifier. This allows custom rendering of properties in a more familiar way than raw values.
For Example
The Enumerated (9) can be displayed as both the enumerated text and the enumerated value.
The Octet String (6) can be rendered as 2 character hex values separated in an array of boxes.
The BitString (8) for Status Flags (111) can be rendered with the text for each status flag.
The Boolean (1) can be rendered as a true or false
Etc.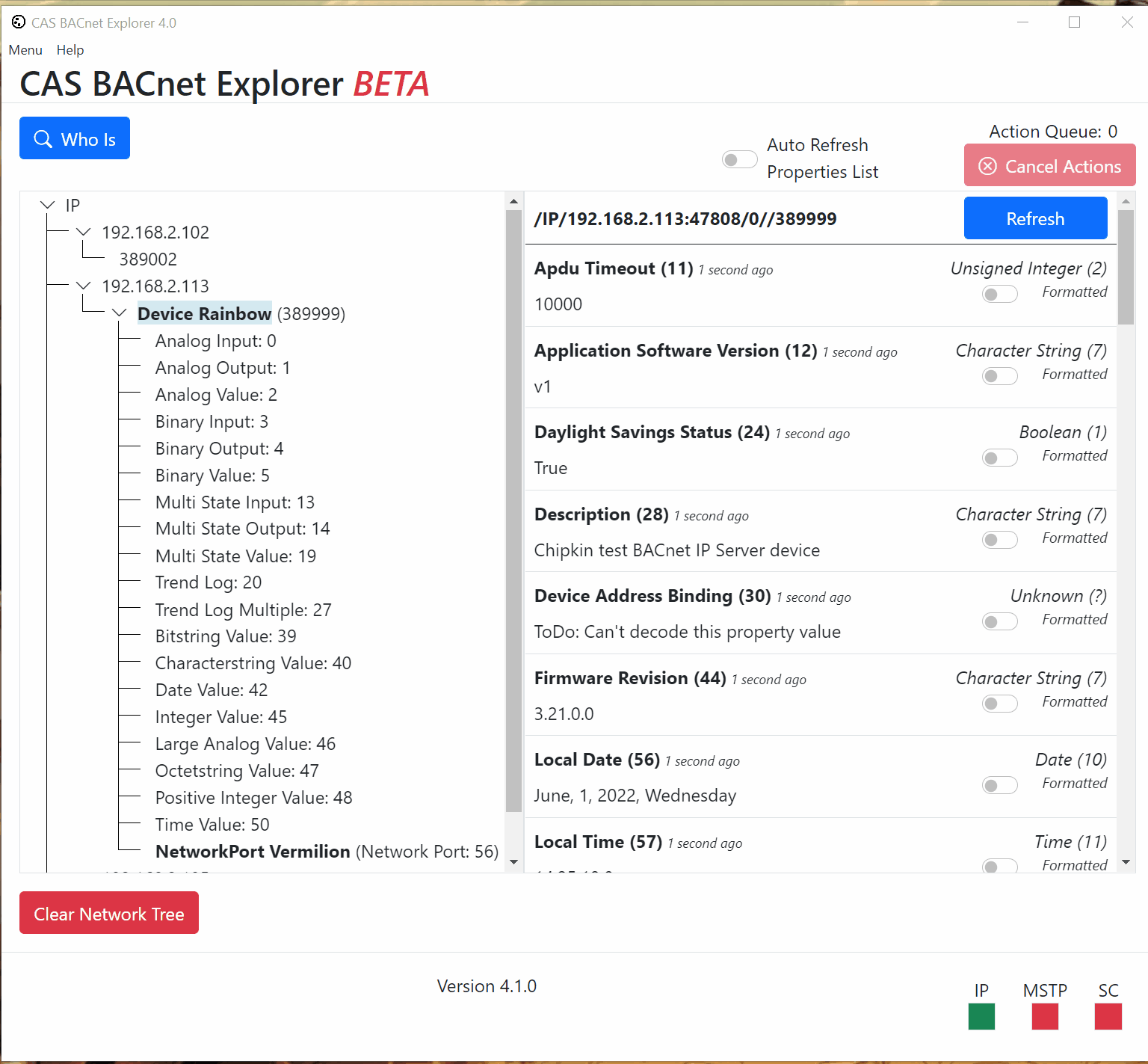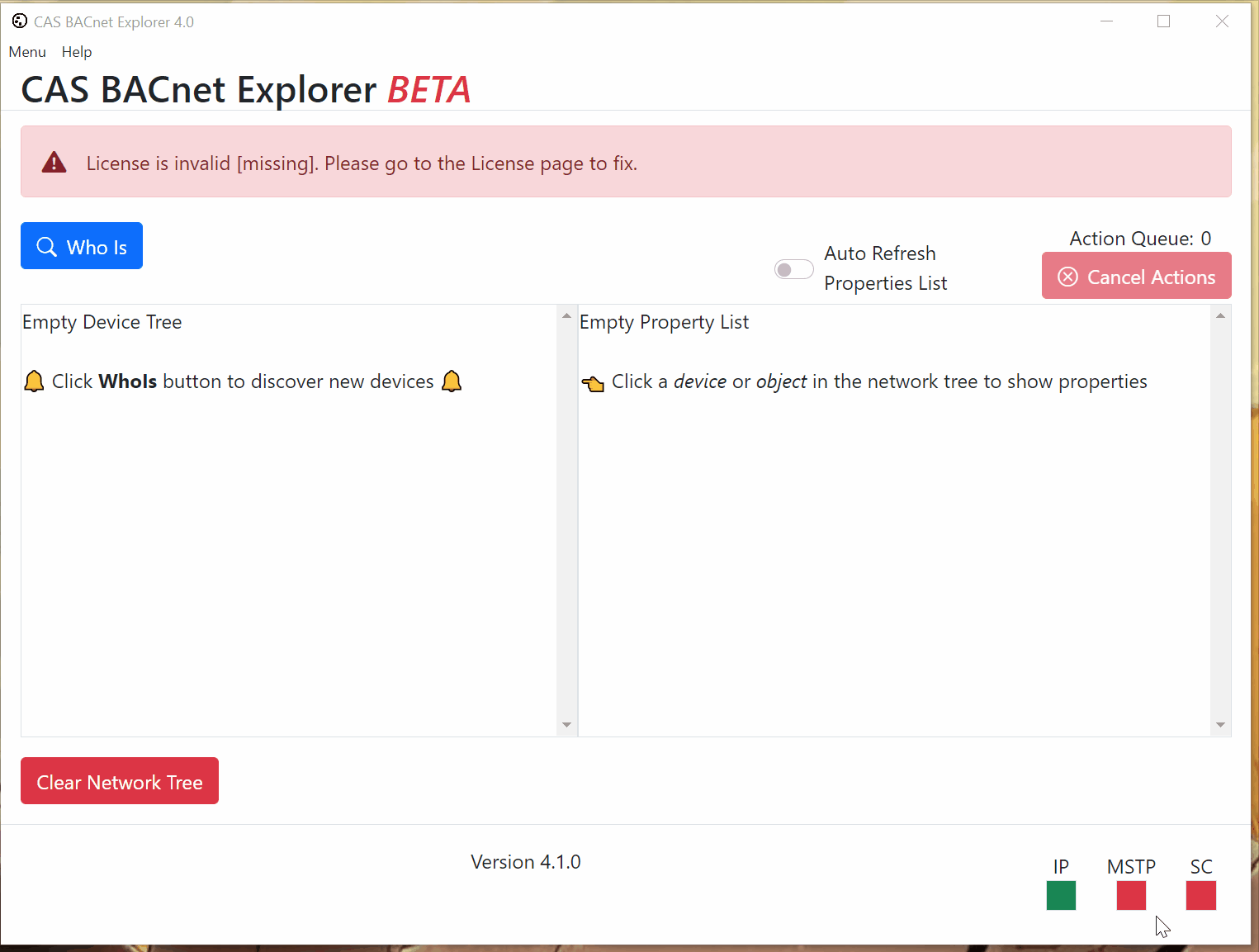 Auto-refresh and data age
The property list can be automatically refreshed by toggling the "auto-refresh" switch above the property list.
The CAS BACnet Explorer will attempt to rediscover the selected objects' properties every 3 seconds and refresh the display.
This feature can be useful for monitoring the present value of an object as it changes over time.
Export / Import database
After discovering the devices and objects, the database can be exported to a database file (JSON).
This database file can be imported and viewed offline. This file can also be used as documentation or used to configure BACnet clients.
Being able to export or import files facilitates remote work and collaboration.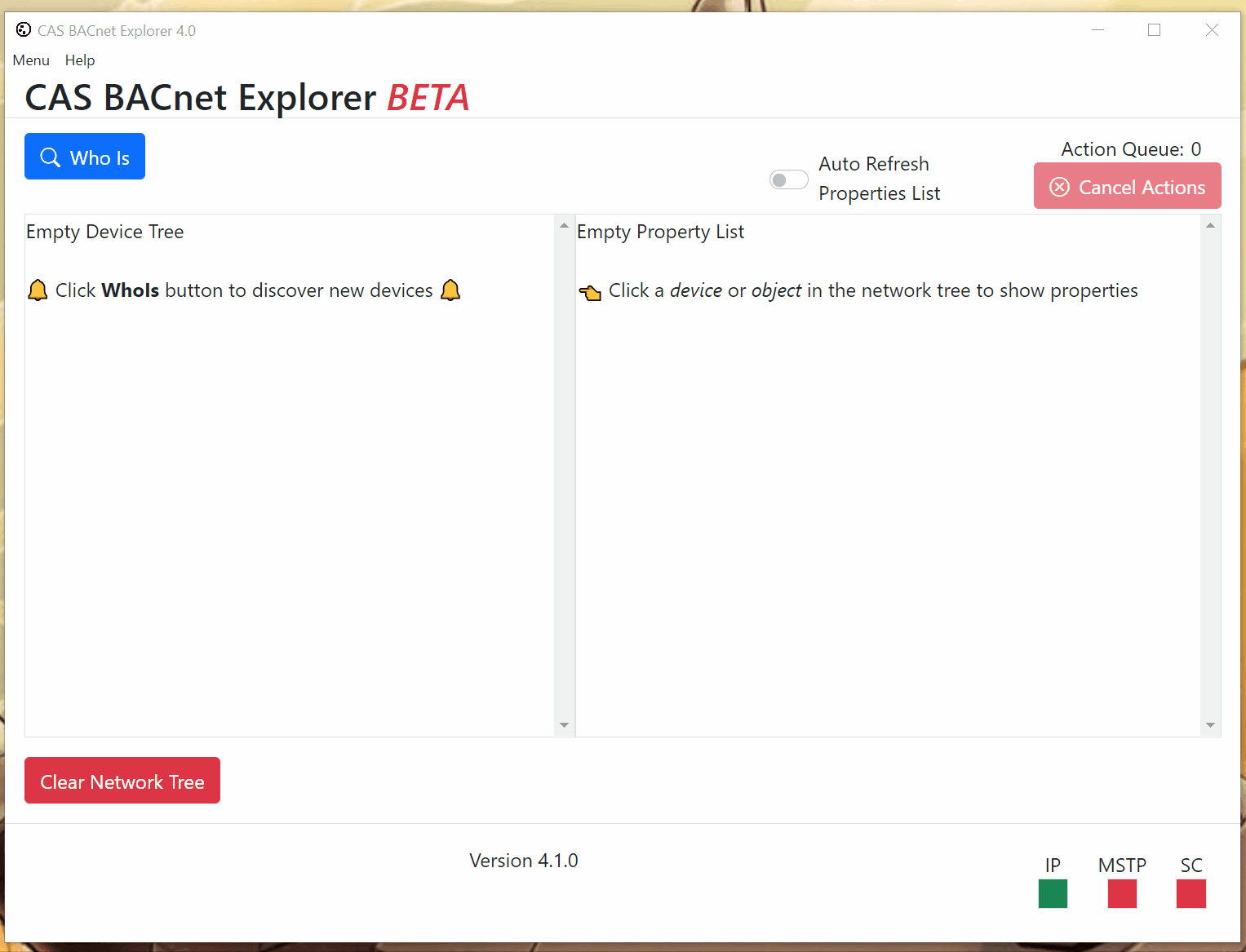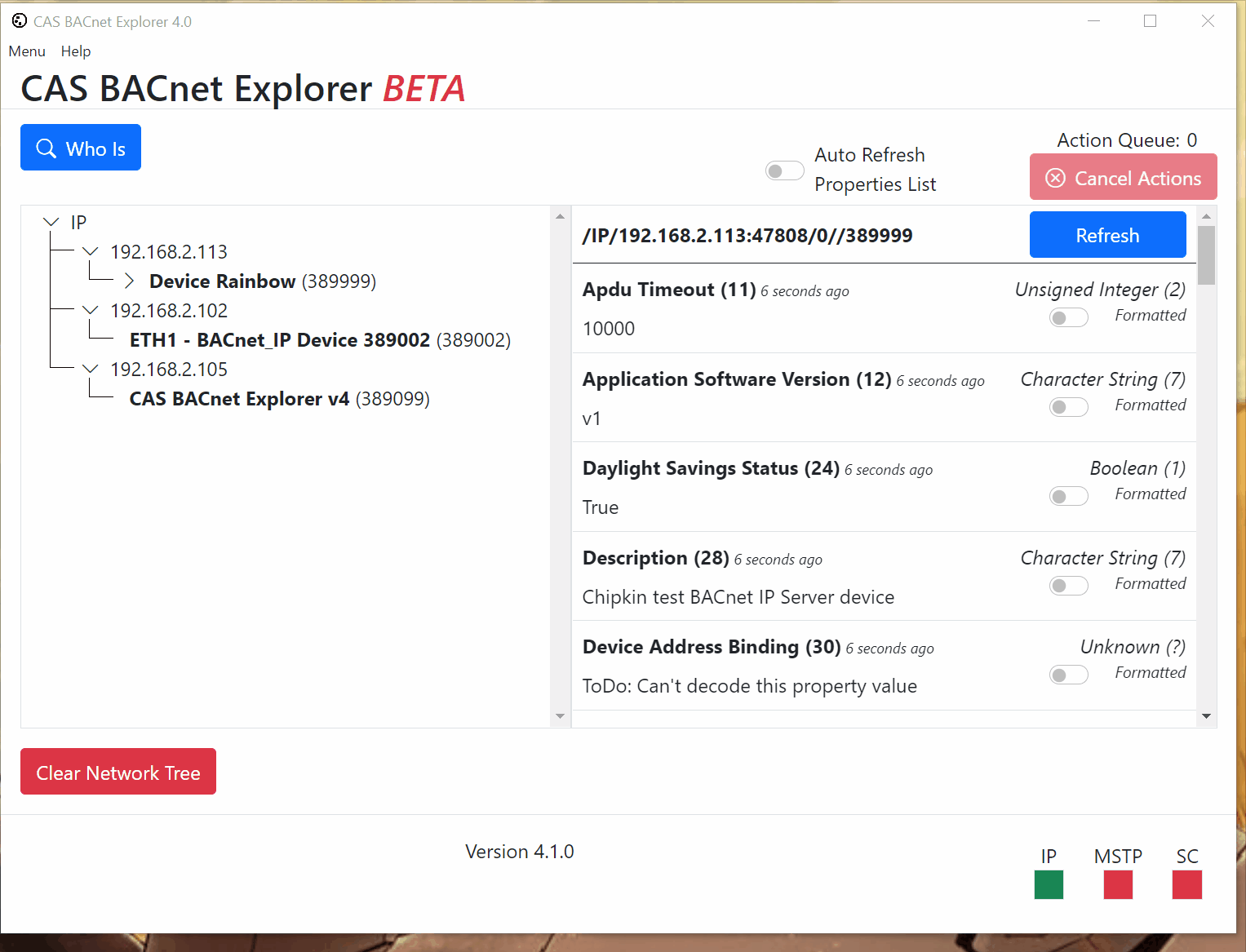 Network Adapter selection
Modern computers have multiple network adapters. For example an Ethernet adapter and a Wifi adapter.
The CAS BACnet Explorer allows the selection of the network adapter to ensure that the traffic is sent out on the correct network.
LICENSES FAQ - What do you get when you purchase the BACnet explorer license
System Requirements
OS:

Windows: Windows 7 and later, Both x86 and amd64 (x64) are supported.
Linux: Tested with Ubuntu 18.4, other versions of Linux may be supported.

10 mb of free space
4 gb of RAM
BACnet MSTP requires an RS485 port. You will need to purchase a USB to RS485 converter. We recommend using an Abacus USB to RS232/RS485 Converter.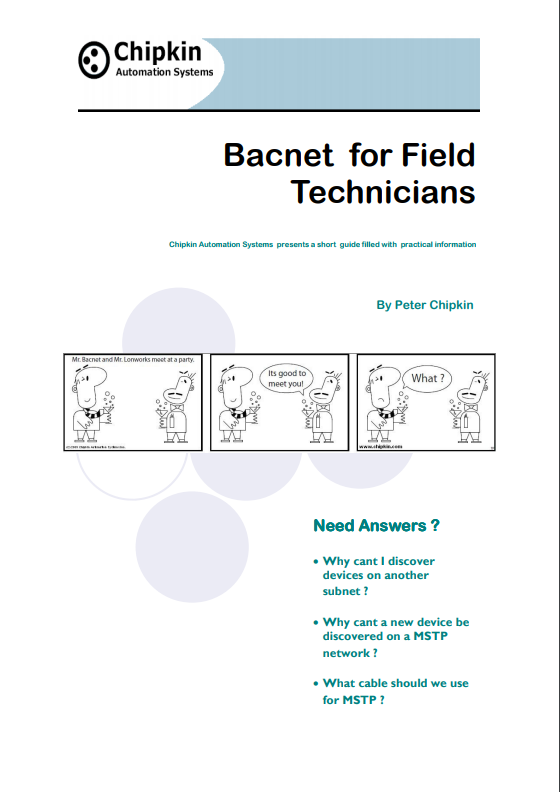 Learning about BACnet? Want to update your BACnet knowledge? This free EBook will guide you through basic and advanced BACnet topics.
You can purchase a hard copy of this book from Amazon or you can download the BACnet for Field Technicians for free from our website.
History
Chipkin originally released the CAS BACnet Explorer v2.00aA in 2002 as a simple tool for discovering BACnet devices and objects on a network and validating the present values. It has been updated many times since its initial release with new features requested by our customers. CAS BACnet Explorer was last updated in 2012 with version v2.02aW as it satisfied most of our customers' needs.
A lot has changed in BACnet spec since 2012. COV, BBMD, Network port objects, Elevator objects. One of the most exciting changes has been the introduction of BACnet SC (Secure Connect) in ANNEX AB. BACnet SC uses web sockets to add TLS encryption and security, in a hub and spoke configuration.
Chipkin updated the CAS BACnet Stack to support BACnet SC data link protocol. This allows companies to embed the CAS BACnet Stack into their product and expose their data with a BACnet interface. The CAS BACnet Stack supports BACnet IP, BACnet MSTP, BACnet Ethernet, and BACnet SC data link protocols.
With the addition of BACnet SC, Chipkin needed a tool to help their customers discover and validate BACnet SC devices. We also wanted to improve the adoption of BACnet SC in the industry. Thus we decided to update the CAS BACnet Explorer.
Thank you once again for your help testing the latest version of the CAS BACnet Explorer.
Thanks for choosing Chipkin's protocol gateways, data clients, Software and integration services to meet your building and industrial automation requirements!
Chipkin™ is a building and industrial automation protocol expert. We develop, configure, install and support gateways (protocol converters), data loggers, and remote monitor and controlling applications. Founded in October 2000, Chipkin provides expert solutions for converting BACnet®, Modbus®, and LonWorks®—to name just a few—and enabling interfaces for HVAC, fire, siren, intercom, lighting, transportation, and fuel systems. The high-quality products we offer (including those from other vendors) interface with Simplex™, Notifier™, McQuay™, GE™, and many others—so you can rest assured that we will select the most appropriate solution for your application.
With Chipkin you are buying a solution. Our configuration expertise in this field combined with free BACnet and other tools ensure your success; and our customer support via phone, e-mail and remote desktop tools means that we're there when you need us. Chipkin is a small responsive company, and we live or die by the quality of our service—and with offices in two-time zones—we can provide support when you need it. Give us a call now!
Customer Support
Chipkin is proud to provide support for the products we sell. For technical support, sales, and customer service, please contact us at 1 (866) 383-1657