Chipkin Services, Products, and Solutions
Chipkin Products
Chipkin provides a wide range of products targeted at Systems Integration. Our solution cover over 200 Protocols and counting. But, we offer more than just Gateways, we also provide Data Clients, BACnet Routers, Stack, Software Tools, GE Lighting LightSweep controllers and a wide range of services.
Chipkin provides solutions, not boxes. We work with our clients to ensure the solution to their problems is customized to their needs. CONTACT US we are happy to provide a free consultation on your integration related project. Even if we do not carry a solution, we may be able to build one for you.

Not only that but if a solution does not currently exist for your device, we regularly build custom solutions for our clients. At Chipkin, we've got you covered.
Chipkin offers a wide range of gateways for many different protocols. Our gateways are installed on many sites around the world for fortune 100 corporations, Hospitals, Universities, Airports, Military Bases, Data Centers, Etc. We have proven products and offer gateways from a wide range of manufacturers.
Below is a sample list of protocols that we support with our gateways. For a complete list, please click here!
MSA FieldServer Technologies Gateway Solutions
Chipkin sells, develops and supports all its Gateway products, that way you get peace of mind that you will only deal with 1 company. Gateways are our Bread and Butter, we know this market. If anyone can help you, it is us.
Chipkin offers a BACnet Stack (CAS BACnet Stack) that supports BACnet Revision 19 and is tested extensively at the annual BACnet Plugfest event. the BACnet is a software library that allows you to add a native BACnet interface to your embedded devices or applications.
Because we have also built the stack to be BACnet spec compliant (we do things according to the BACnet spec.), No device that used our BACnet stack has ever failed to receive the BTL Certification (BACnet International BLT) by the BACnet Testing laboratories. We do things the right way from the start! CONTACT US!
Chipkin also provides Pre-BACnet BTL Testing Services. BACnet is not a simple protocol and requires extensive testing to ensure compatibility between devices.
Take it from us, we have been working with BACnet for 20+ years. Our BACnet Stack Resume includes 10+ years of development, 25,000+ commits, 50,000+ lines of code, 2,500 unit tests, 50+ devices using the stack and among other capabilities, 1,000,000+ device installations. We know what we are doing. On top of that, we are also part of the BACnet Testing Laboratory Working Group. Purchasing BACnet BTL Pre-Testing from us will save you thousands of dollars in mitigated errors and prevent delays. Let us handle the grunt work, BACnet Spec is complex and meeting all specifications error free is virtually unheard of. CONTACT US!
Chipkin regularly develops tools for internal use, but because our tools are useful, we like to share those tools back to the community, with the exception of the CAS BACnet Explorer, for free.
As the official authorized service provider for GE lighting controls, Chipkin acts both as a Distributor and a support engine for GE Lighting's LightSweep System. On a daily basis, we sell, support, commission, and troubleshoot LightSweep systems. We know the technology inside out and are trusted by the manufacturer to take you from the initial consultations to the completion of the project.
Not only that, but if you have an old GE lighting TLC system, you will definitely need us. Chipkin has official training on how to support, configure, and services these systems. We have access to parts, software tools, and Expertise to solve any issues. In the event that an old TLC system needs to be upgraded, we also provide Retrofit Kits to upgrade the entire TLC system to the new LightSweep products. Call Us!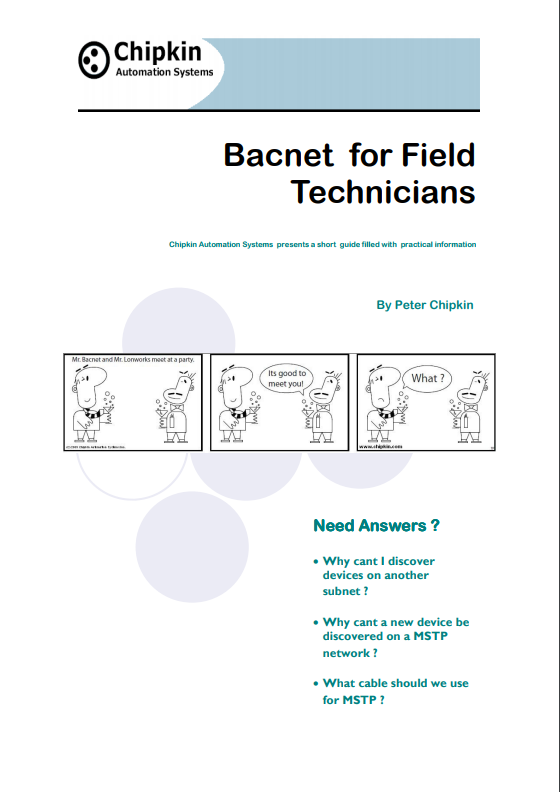 Learning about BACnet? Want to update your BACnet knowledge? This free EBook will guide you through basic and advanced BACnet topics.
You can purchase a hard copy of this book from Amazon or you can download the BACnet for Field Technicians for free from our website.
FREE CAS BACNET EXPLORER WITH THE PURCHASE OF A BACNET GATEWAY!
Purchase a FieldServer or CAS Gateway from us that contains any BACnet protocol and we will help you test and document the BACnet interface by providing a free full license to the CAS BACnet Explorer and a hard copy of the BACnet booklet.
The USB key and booklet ships with the product.
Thanks for choosing Chipkin's protocol gateways, data clients, and integration services to meet your building and industrial automation requirements!
Chipkin™ is a building and industrial automation protocol expert. We develop, configure, install and support gateways (protocol converters), data loggers and remote monitor and controlling applications. Founded in October 2000, Chipkin provides expert solutions for converting BACnet®, Modbus®, and LonWorks®—to name just a few—and enabling interfaces for HVAC, fire, siren, intercom, lighting, transportation and fuel systems. The high-quality products we offer (including those from other vendors) interface with Simplex™, Notifier™, McQuay™, GE™ and many others—so you can rest assured that we will select the most appropriate solution for your application.
With Chipkin you are buying a solution. Our configuration expertise in this field combined with free BACnet and other tools ensure your success; and our customer support via phone, e-mail, and remote desktop tools means that we're there when you need us. Chipkin is a small responsive company, and we live or die by the quality of our service—and with offices in two-time zones—we can provide support when you need it. Give us a call now!
Chipkin is proud to provide support for the products we sell. For technical support, sales, and customer service, please contact us at 1 (866) 383-1657 or E-Mail.