GigaFactory - The Largest Building In the World by Footprint
Tesla recently stated that its current battery cost is $190 per kWh for the Model S. The GigaFactory aims to reduce battery costs by 30%.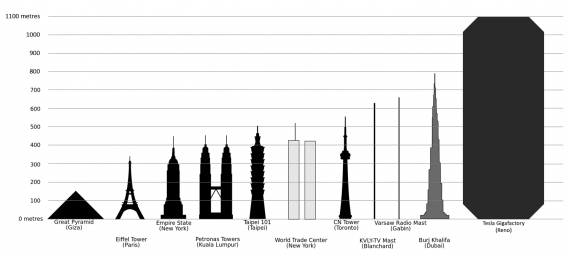 Courtesy: cleantechnica.com
During the 2016 Shareholders Meeting today, Tesla CEO Elon Musk announced that the company could triple the total planned battery output of the Gigafactory to ~105 GWh of cells and ~150 GWh of battery packs – or over 3 times the current total li-ion battery production worldwide.
The Gigafactory will be 100% powered by renewable energy (Solar, Wind, and Geothermal).
It will employ 6,500 people, and it will have a state-of-the-art recycling system to make use of old battery packs.
Elon Musk says the "exit rate" of lithium-ion cells from the Gigafactory will literally be faster than bullets from a machine gun.
Tesla Motors

Tesla aims to sell 500,000 cars in 2018. If it hits the mark, it will be a big milestone for the electric vehicle market.
Tesla cars are powered by thousands of small lithium ion cells, unlike individual large battery packs with better thermal management and stronger exterior casing under vehicle floor.
85 kWh pack consists of 16 modules of 444 cells for 7,104 total cells: Range-265 miles
60 kWh pack consists of 14 modules of 384 cells for 5,376 total cells.Range-208 miles
Charging facilitates (Superchargers) are setup in many parts across the world for the vehicles to charge in faster time.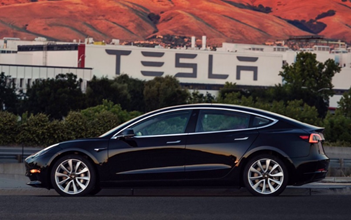 Fig: Tesla Model3
Tesla Motors & the future of EV's
Powerwall 2- Twice the power compared to first generation of powerwall with an integrated Inverter. Single battery can provide 5 kW of continuous power, but will improve to 7 kW at peak.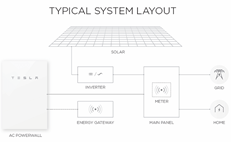 Tesla Energy is making huge impact on energy grids & storage. At kaua'i islands, solar panels were installed in area of 45 acres with help of 53MWh Tesla powerpacks.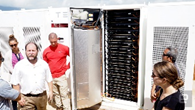 Also, in the aftermath of Hurricane Maria, as much as 97 percent of Puerto Rico remains without power. Tesla is lending a hand by sending hundreds of its Powerwall systems to supply energy.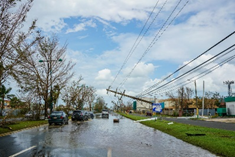 The Mira Loma substation of Southern California Edison, hosts the biggest battery farm Tesla has built for a power company. Having capacity of 20 megawatts and is designed to discharge 80-megawatt hours of electricity in four-hour periods.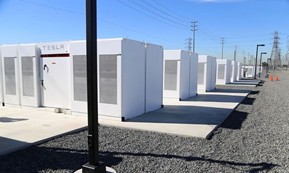 Tesla and French company Neoen to build world's biggest lithium ion battery in South Australia, The 129MWh battery, which is paired with a wind farm, is designed to improve the security of electricity supplies across South Australia.