Shielded (STP) and Unshielded (UTP) Twisted Pairs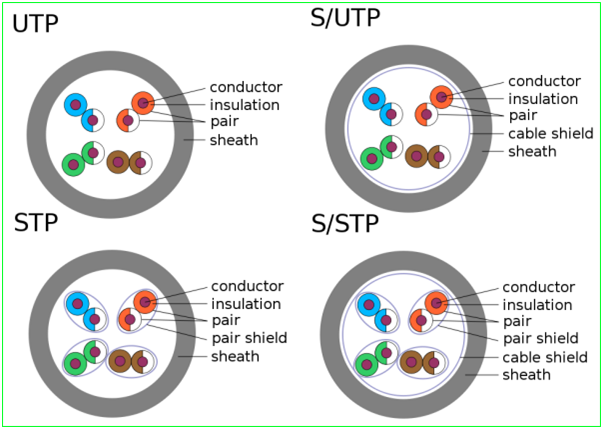 Some STP cables, for example, use a thick braided shield that makes a cable heavier, thicker and more difficult to install than its UTP counterpart. Other STP cables use only a thin outer foil shield. These cables, known as screened twisted-pair cables or foil twisted-pair cables, are thinner and less expensive than braided STP cable; however, they are not any easier to install. Unless the minimum bend radius and maximum pulling tension are rigidly observed when these cables are installed, the shield can be torn.
Unshielded twisted-pair cable does not rely on physical shielding to block interference. It relies instead on balancing and filtering techniques using media filters, baluns or both. Noise is induced equally on two conductors and is canceled out at the receiver. With properly designed, manufactured and installed UTP cable, the network is easier to maintain than one in an STP cable plant, with its shielding continuity and grounding issues.
If STP cable is combined with improperly shielded connectors, connecting hardware or outlets, or if the foil shield itself is damaged, overall signal quality will be degraded. This, in turn, can result in degraded emission and immunity performance. Therefore, for a shielded cabling system to totally reduce interference, every component within that system must be fully and seamlessly shielded, as well as properly installed and maintained.
An STP cabling system also requires good grounding and earthing practices because of the presence of the shield. An improperly grounded system can be a primary source of emissions and interference. Whether this ground is at one end or both ends of the cable run depends on the frequency at which a given application is running. For high-frequency signals, an STP cabling system must be grounded, at minimum, at both ends of the cable run, and it must be continuous. A shield grounded at only one end is not effective against magnetic-field interference.
<----- Previous Article           Main Page            Next Article ------>