This IntesisBox gateway ensures full interoperability support to the integrator and the propriety thanks to the  BTL Mark.
The aim of this integration is to monitor and control your Daikin air conditioning system, remotely, from your Control Center using any commercial SCADA or monitoring software that includes a BACnet driver or connect it to other BACnet devices to do any automation. To do it so, IntesisBox allows BACnet communication allowing polling or subscription requests (COV).
IntesisBox makes available the Daikin air conditioning system indoor units through independent BACnet objects.
Abstraction of Daikin air conditioning system properties and functionalities as fixed BACnet Objects. IntesisBox allows fixed BACnet object IDs mapping. A simple configuration is needed: just select the appropriate communication parameters (MAC address, baud rate…).
I'd like to inquire about the Daikin VRV and Sky systems to BACnet IP/MSTP Interface - 1 unit INBACDAI001R000. Please provide me with a quote for this product.
Specifications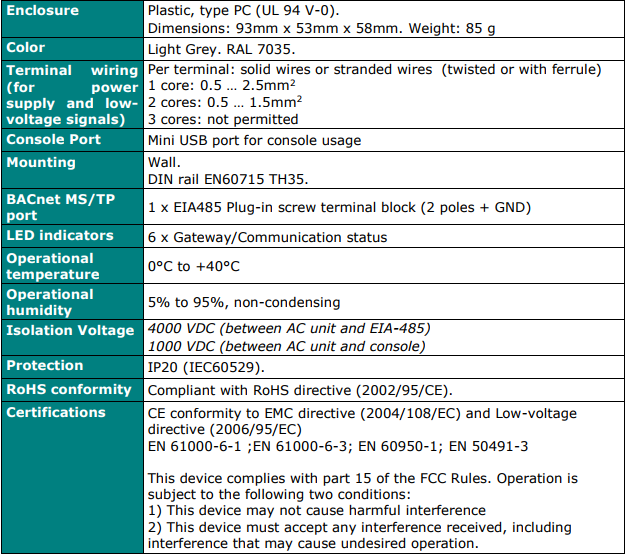 Connections
DK-RC-BAC-1 connects directly to the indoor unit connector using the P1P2 connector and to the BACnet side using BACnet IP or BACnet MS/TP (See picture below).