GE Lighting Controls Support
Lighting Products and Services
Chipkin is the Official authorized service provider for GE lighting controls and an active distributor of their LightSweep System. We are also experts in legacy and current GE lighting control systems and provide a wide range of products and services.
A small summary of what we provide is:
GE's modular indoor lighting control solution is scalable and highly flexible making it easier to meet specifications without having to over-engineer the control design. As GE Lighting's Service provider, Chipkin is your best option to handle all your indoor GE lighting needs. From a single space to multiple facilities, from simple schedules to advanced energy management systems and complete retrofits... our solutions can be easily designed and tailored to address your lighting control needs.
LightSweep is a highly scalable lighting control solution based on relay panels, sensors, and software. Energy reduction schemes include ON/OFF switching and constant dimming based on time schedules, occupancy sensing or daylight harvesting. LightSweep can be integrated with building management systems (BMS) and linked to the "Smart Grid".
Please Contact Us for a free consultation.

Features
Modularity - Easier to meet specification, potentially improving price competitiveness (avoids "over spec"); CAT5 connectivity
Simple Design - Snap-in modules and relays, plug-in connectors enable easy factory or field installation, quick field replacement, and simple upgrades or expansions
Scalability - The system can be scaled from a very simple stand-alone controller, programmed using the push-button feature to a very complex system deployed across multiple buildings or facilities, accessible via the Internet
BACnet - Easier to integrate with 3rd party products (e.g., field devices, BMS, security systems). BACnet controller is a fully programmable device allowing custom programming for very complex applications
Customization - Custom zones, scenes and pre-sets based on user's preferences: conference rooms, multi-purpose rooms, etc.
Chipkin provides Lighting solutions for a wide range of industries. Please Contact Us for a free consultation.
Chipkin provides retrofit kits designed for 24 and 48 relay TLC Legacy Panels. These kits facilitate the conversion of Legacy TLC systems to function with the advanced LightSweep Modular lighting system, enabling users to maintain their legacy system and upgrade it to the latest technology that is currently supported. As the availability of parts, support, and repairs for the Legacy TLC system continues to decline, retrofitting to the LightSweep will inevitably become mandatory. Choose to prepare for this eventuality by retrofitting your system before it malfunctions which could lead to exorbitant operational costs.
A Retrofit Kit consists of the following components: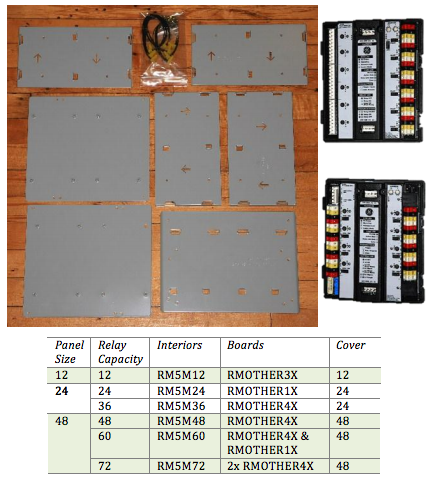 2x Relay Module Adapter Plates
1x Group Switch Module Adapter Plate
1x Tub adapter plate
16x screws
16x lock washers
2x long jumpers
A Group Switch Module and a Relay Module (for every six relays) are also required and must be purchased separately:
Migration of Douglas Lighting Controls to LightSweep
Following the closure of Douglas Lighting controls, Chipkin are also available to aid in migrating your Douglas Lighting controls project to LightSweep lighting controls system. Our team of experienced lighting engineers can work with you to develop a solution that extends the life of your Legacy Douglas Lighting System by converting the Controls to our modular LightSweep System.
The Douglas relay panels are very similar to that of the Lightsweep panels which makes the conversion to a Lightsweep design economical and straightforward. Please Contact Us for a free consultation.
Total Lighting Control (TLC) Products and Services
If you have an old TLC system, you will definitely need us. Chipkin has official training on how to support, configure, and services these systems. We have access to parts, software tools, and Expertise to solve your problems. Not only that, but we also provide the hardware and services to retrofit upgrade all TCL systems to GE Lightings Modular Lighting System, LightSweep.
With Chipkin's background in integration, we can protect legacy systems through integration or help you upgrade to newer systems. For a list of GE TLC Manuals and Datasheets, Please CLICK HERE.
Our Services
Remote Troubleshooting for Hardware and Software
An experienced engineer or technician versed in GE lighting control systems will support you over the phone. We are also able to use remote desktop software to remotely connect to your computer, in order to configure software and repair connectivity or programming issues. Hourly appointments are available.
Software Graphics, Databases, and O&Ms
Changes over time may create mismatches between what is shown in the software and what exists in the field, and leave existing custom HMI graphics screens dysfunctional. Lighting automation panel software databases can be reconstructed and used to create panel schedules or vice-versa. We are also able to modify existing graphics and create new screens.
If your operations and maintenance manuals are incomplete, out-of-date or you are missing them entirely, we are able to help develop new up-to-date documentation.
On-Site Maintenance and System Survey
The untimely failure of lighting controls can be inconvenient and disruptive, especially for large and commonly used spaces. Our GE authorized service technicians are trained to troubleshoot and perform maintenance to return your system to correct operation.
If your system has not been serviced for many years, it may be in need of a System Survey. We will come to inspect it, exercise the controls, functionally test all components, and document any issues. We will fix what we can and make recommendations for replacements, repairs, or upgrades required to get the system fully operational. We will record scheduling, programming, and sensor setpoint information and ensure panel schedules and documentation are current. We'll inform of any system features that are not set up or that you are not aware of. We are also able to recommend a stock of spare parts and provide training as required.
BMS Integration and Retrofit Upgrades
We are able to interface GE lighting control panels into your building management system, allowing remote monitoring and control of lighting. Utilizing our custom drivers and gateways we can translate TLC communication (proprietary GE protocol, LonWorks) to Modbus, BACnet, Metasys N2 by JCI, Rockwell, GE Fanuc, Omron, SNMP, HTTP and many other popular protocols.
Replacing system components as they fail is cost-effective in the short-term, but as systems get older it often makes sense from a reliability and ROI point-of-view to retrofit or upgrade them. A new system is better supported with available parts/documentation/expertise, is under warranty, and often offers many new features such as occupancy sensors, photosensors, timeclocks, and web/mobile/computer control. We are able to partner with you in upgrading to a system that meets the latest energy codes (ASHRAE, Title 24) and reliably functions for many years to come.
TLC Parts and Software
We assist in finding parts for current and legacy systems. If parts are discontinued or unavailable, we recommend alternatives and upgrades. Limited stocks may be available.
Software: SmartTLC 3.1 (LightX 3.1)
LightX (or SmartTLC) is the software to manage and configure GE Lightings Total Lighting Control Lighting systems.
A Windows-based complete control software package that replaces the old DOS based TLC program (RSOFT).
The complete control software currently installed on PCs delivered with system. Must speak with one of our representatives.
Supports programming, monitoring and control functions for any points in the system.
Supports GE Level III hardware for monitor and control of customer lighting
Hardware and other Parts
RR7x Relays (RR7, RR7P, etc., replacements for RR3, RR5), RR9x Relays (RR9, RR9P, etc., replacements for RR4, RR6, RR8), RS2XX Momentary Switch (RS232, RS237, etc.), RP2XX Momentary Switch Plates (RP2112, RP2117, etc.), RA2XX Momentary Switch Blanks, RMP235
RTUB12, RTUB24, RTUB48, RINTER0012RC, RINTER0024RC, RINTER0048RC, RINTERxx12, RINTERxx24, RINTERxx48, RCOV12xxx, RCOV24xxx, RCOV48xxx, RCOV12SL, RCOV24SL, RCOV48SL, RCOV12SHL, RCOV24SHL, RCOV48SHL, RCOV12FHL, RCOV24FHL, RCOV48FHL, TWRLAP12, TWRLAP24, TWRLAP48, RMOTHER-1, RMOTHER-2, RLM48, RGSWT-12, RDLPWR1, RPWR115, RPWR277, RLINK, RREPEAT, RCLOCK, RCABLE-C, RCABLE-M, RPHONE-1, RPHONE-2, (RS1PS7, RS2PS7, RS4PS7, RS8PS7, etc.)
RSOFT-CM1, RSOFT-CMG, RSOFT-CMB, RSOFT-CMGS, RSOFT-CMT, LIGHTX 3.0, SmarTLC 3.1
RPCON, RPCON3-OUT, RMS8 (replacement for RMS5BL, RMS5RL), RMS16, RMS32, RSP12, RSP12, RCS12 (replacement for RSI2)
RPSEN-ATR, RPSEN3-OUT, RPSEN-SKY, RSENSOR-1, RSENSOR-2, RSENSOR-H, RSEN-WLV, RSEN-SM, RSEN-MD, RSEN-LG, RSEN-2H, RTPACK, RTPACK-347, RSEN-W12, RSEN-W3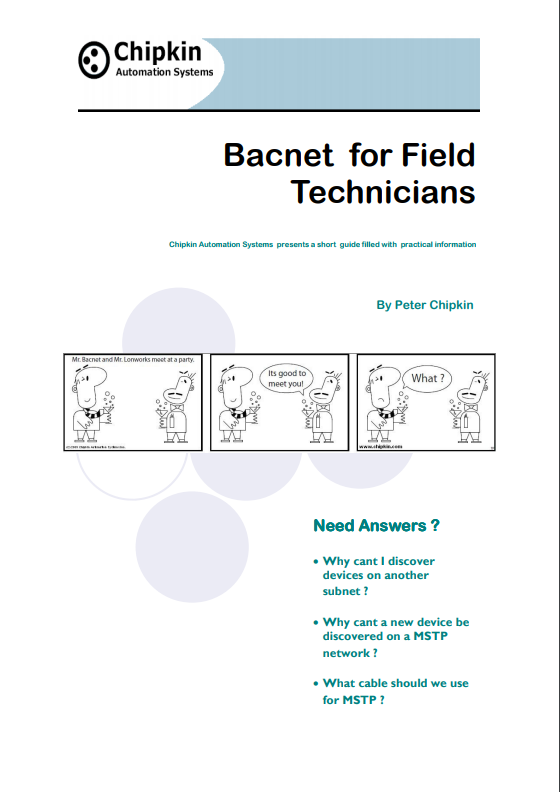 Learning about BACnet? Want to update your BACnet knowledge? This free EBook will guide you through basic and advanced BACnet topics.
You can purchase a hardcopy of this book from Amazon or you can download the BACnet for Field Technicians for free from our website.
FREE CAS BACNET EXPLORER WITH THE PURCHASE OF A BACNET GATEWAY!
Purchase a FieldServer or CAS Gateway from us that contains any BACnet protocol and we will help you test and document the BACnet interface by providing a free full license to the CAS BACnet Explorer and a Hardcopy of the BACnet booklet.
The USB key and booklet ships with the product.
Thanks for choosing Chipkin's protocol gateways, data clients, and integration services to meet your building and industrial automation requirements!
Chipkin is a building and industrial automation protocol expert. We develop, configure, install and support gateways (protocol converters), data loggers and remote monitor and controlling applications. Founded in October 2000, Chipkin provides expert solutions for converting BACnet, Modbus, and LonWorks to name just a few and enabling interfaces for HVAC, fire, siren, intercom, lighting, transportation and fuel systems. The high-quality products we offer (including those from other vendors) interface with Simplex, Notifier, McQuay, GE and many others so you can rest assured that we will select the most appropriate solution for your application.
With Chipkin you are buying a solution. Our configuration expertise in this field combined with free BACnet and other tools ensure your success; and our customer support via phone, e-mail, and remote desktop tools means that we're there when you need us. Chipkin is a small responsive company, and we live or die by the quality of our service and with offices in two-time zones we can provide support when you need it. Give us a call now!
Customer Support
Chipkin is proud to provide support for the products we sell. For technical support, sales, and customer service, please contact us at 1 (866) 383-1657.