FieldServer B35XX Multiport Gateway
The FS-B35XX is designed to meet the needs of any system integrator in designing a complete interoperable system. The FS-B30XX Series brings together the powerful FieldServer driver library with state-of-the-art gateway design.
The FS-B35XX comes in 6 different variations:
The multiport gateway has support for 1,000 points which can be upgradable to 10,000 allowing it to easily handle multiple protocol drivers and multiple translations simultaneously with no slowdown in performance. The product includes the ports mentioned above depending on the protocol your require. The multiple ports and support for simultaneous protocol execution allow the Multiport Gateway to be used in the most complex integration scenarios. The availability of the second Ethernet port enables the integrator to connect a PC to download configuration changes without disturbing the system connections and without the additional cost of an external hub for the protocol gateway.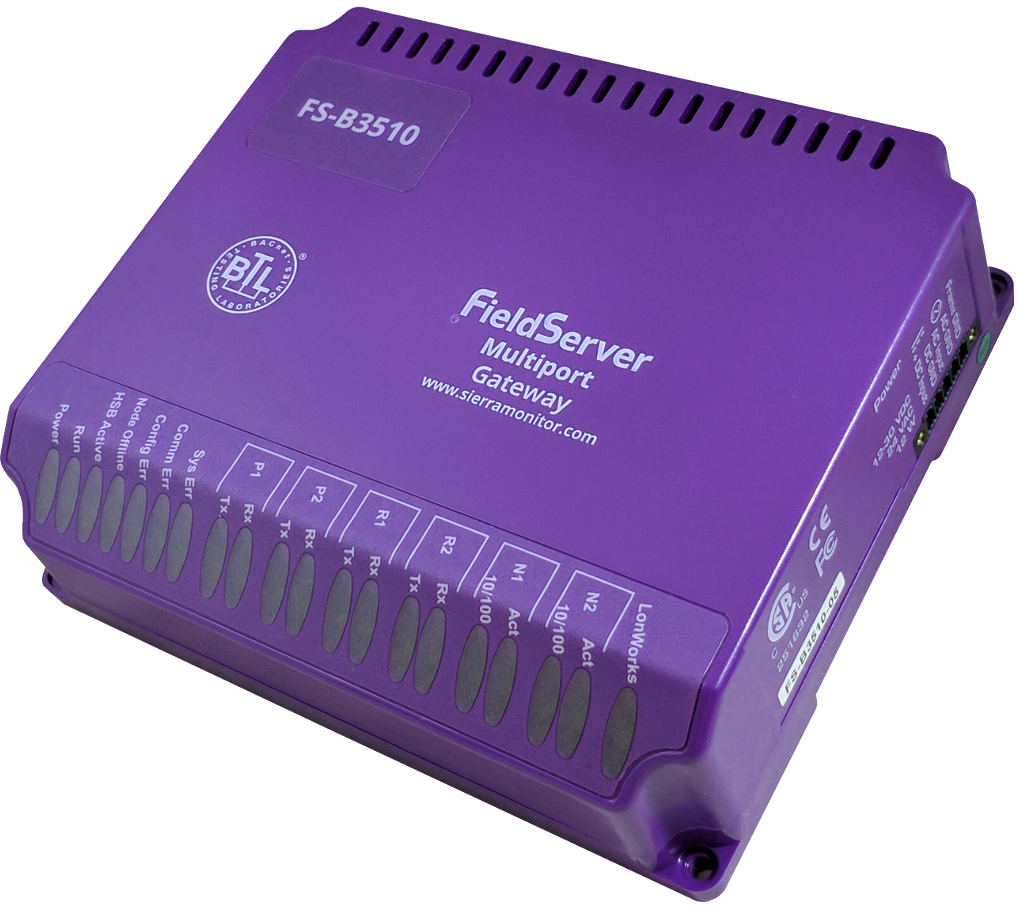 Chipkin has been working hand-in-hand with Sierra Monitor from the beginning. We have developed many of their drivers and continue to do so today. We know the product to source code level. If anyone has the capabilities to ensure you succeed in your integration, we are it. Don't hesitate to CONTACT US for a free consultation.
Multiport Protocol Gateway units can be configured in the field, with all the necessary instructions and software included with the product. If the user prefers the unit to be pre-configured prior to delivery, Chipkin offers and highly recommends custom configuration services.
Example of a BACnet Block Diagram
The Multiport Gateway is approved across a variety of standards, including UL-916, CE, and RoHS. Protocol certifications include the BTL Mark, LonMark, and DNP3 Conformance. These approvals and certifications assure our customers that we carry only the highest quality of standards-compliant products.
With multi-protocol flexibility, ease-of-use, wide deployment, and world-class technical support, the Multiport Protocol Gateway is truly the Swiss Army knife of systems integration. Please CONTACT US for more information or to place an order.
Specifications
Field Connections
Ethernet Ports – 2: 100 BaseT RJ45 connector (auto MDIX and sensing) with ESD protection
Serial Ports – 5: 2 x RJ45 RS-232 galvanically isolated with ESD protection. 2 x RS-485 galvanically isolated with ESD protection. 1 x RJ45 RS-232 system port.
LonWorks – 1: FTT-10 twisted pair. 1000 Network variable capability. LonWorks service pin
Auxiliary ports – 2: 2 x USB ports. Expansion: Fieldbus connectors available for selected protocol
Depends on Hardware – 1: Profibus DP Slave, Profibus DP Master, DeviceNet Slave, DeviceNet Master, COntrolNet Slave. See Datasheets!
Environment
Operating Temperature: 0-60 °C (32-140 °F)
Relative Humidity: 10-90% non-condensing
Power Requirements
24V AC (+/-10%) or 12-30V DC @ 12W
Physical Dimensions
Dimensions (WxDxH): 6.3x5.4x2.0 in.(16.0x13.7x5.0cm)
Weight: 2.5 lbs (1.5 Kg)
Input voltage: 24 V DC nominal: 10-30V DC
Other
Configuration/Diagnostic utilities
Capacity: Base system has 1000 point capability (upgradeable to 10,000 points)
Mounting Options: Desktop, Wall, Panel Optional: DIN rail
LED Indicators
Power, Run, System Error, Configuration Error, and Node Offline
Ethernet connection– Link OK, Tx/Rx communication activity
RS-232/RS-485 – Tx/Rx communication activity
LonWorks - Activity
Communication, Option, Drivers
Memory upgrade for additional data points
Custom Configuration Service
Drivers available for a wide range of Ethernet and social protocols
Approvals
CE Marked
CSA Certified: UL916 Standard and CSA @ 22.2
DNP 3.0 Tested
RoHS Compliant
GOST-R Certified
FCC: Part 15
LonMark Certified
Modbus Tested
BTL Certified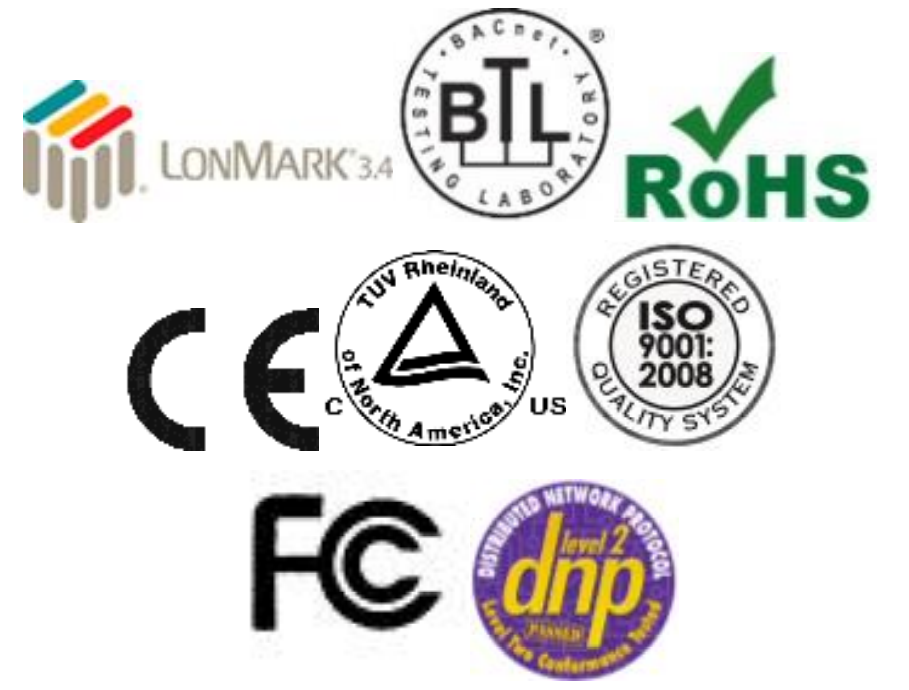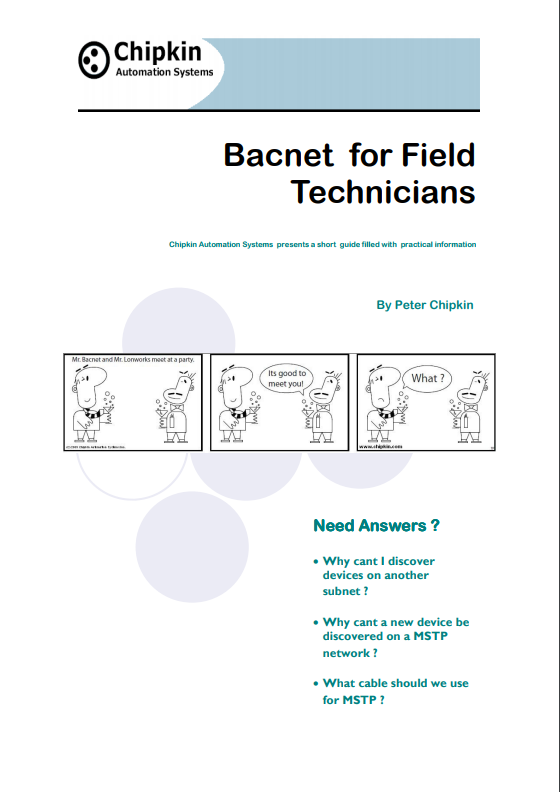 Learning about BACnet? Want to update your BACnet knowledge? This free EBook will guide you through basic and advanced BACnet topics.
You can purchase a hardcopy of this book from Amazon or you can download the BACnet for Field Technicians for free from our website.
FREE CAS BACNET EXPLORER WITH THE PURCHASE OF A BACNET GATEWAY!
Purchase a FieldServer or CAS Gateway from us that contains any BACnet protocol and we will help you test and document the BACnet interface by providing a free full license to the CAS BACnet Explorer and a hard copy of the BACnet booklet.
The USB key and booklet ships with the product.
Thanks for choosing Chipkin's protocol gateways, data clients, and integration services to meet your building and industrial automation requirements!
Chipkin™ is a building and industrial automation protocol expert. We develop, configure, install and support gateways (protocol converters), data loggers and remote monitor and controlling applications. Founded in October 2000, Chipkin provides expert solutions for converting BACnet®, Modbus®, and LonWorks®—to name just a few—and enabling interfaces for HVAC, fire, siren, intercom, lighting, transportation and fuel systems. The high-quality products we offer (including those from other vendors) interface with Simplex™, Notifier™, McQuay™, GE™ and many others—so you can rest assured that we will select the most appropriate solution for your application.
With Chipkin you are buying a solution. Our configuration expertise in this field combined with free BACnet and other tools ensure your success; and our customer support via phone, e-mail, and remote desktop tools means that we're there when you need us. Chipkin is a small responsive company, and we live or die by the quality of our service—and with offices in two-time zones—we can provide support when you need it. Give us a call now!
Customer Support
Chipkin is proud to provide support for the products we sell. For technical support, sales, and customer service, please contact us at 1 (866) 383-1657