Elements of Hunter ACC2 irrigation system
Hunter ACC2
Hunter's ACC2 controller delivers advanced water management to meet the demands of large-scale commercial projects. It provides powerful irrigation management and monitoring capabilities for complex commercial projects. The Hunter ACC2 gateway's systems function through the following elements: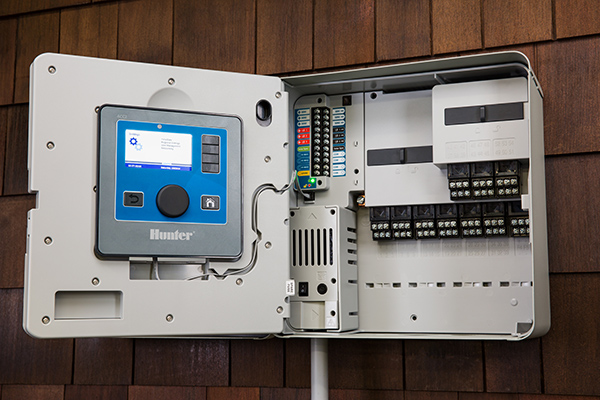 Programs
A program specifies the irrigation duration and intervals. The controller offers extreme flexibility, with 32 independent programs, 10 start times, and a variety of overlapping, stacking, and management configurations.
Blocks
A block is an electronic group of stations that runs at the same time, for the same run time, within a program;
Blocks may have up to 8 stations each.
There can be up to 64 blocks per controller.
They can be mixed in a program with individual stations.
Programs with blocks are not limited in any way by other programs that are running. The controller will not turn on more stations than it can handle, so there are no artificial rules governing the blocks.
Blocks may also have their own cycle and soak settings.
Stations
A station includes the number of outlets controlled /operated by a single program. It includes rotors, sprays, drip, etc. In the 'Stations' section, we can set up:
Name: used to name the station (rotors, sprays, drip, etc.).
Station P/MV Usage: indicates which normally closed P/MV outputs the station will activate, whenever it runs.
Flow Zone: assignment required for Flow Manager and/or Flow Monitoring.
Flow Priority: check the box to make a station more likely to water earlier in Flow Management.
Flow Rate: enter or learn the typical flow for the station. Used in both Flow Manager and Flow Monitor.
Delay: sets the amount of time the station can run before high or low flows will cause an alarm. Set longer delays for stations that take longer to stabilize the flow.
Pump Master Valve
A master valve is a normally closed valve installed at the supply point of the mainline that opens only when the automatic system is activated.
A pump start relay is an electronic device that uses a signal current from the irrigation controller to activate a pump to provide water to a system.
Seasonal Adjustment
Seasonal adjustment is used to make run time changes without having to reprogram all of the individual station run times. This feature is perfect for making small changes that are necessary as weather conditions change due to seasonality. For example, during hotter times of the year, your landscape may require more water. Seasonal adjustment can be increased so that stations will run longer than the programmed time. Conversely, as fall approaches, the seasonal adjustment can be reduced to allow for shorter station watering durations.