Classic QuickServer Gateway (Serial-Ethernet)
QuickServer is a high performance, fully configurable, cost-effective Building and Industrial Automation gateway for integrators to easily interface devices to networks in commercial buildings and industrial plants.
System integrators worldwide have benefitted from the value of the powerful line of interoperability gateways offered by FieldServer. Now, QuickServer adds to that value by running the same robust FieldServer protocol conversion software on a highly cost-effective platform backed by the experience, engineering expertise and proven technical support that integrators have come to expect from FieldServer.
QuickServer (Serial-Ethernet) is available in two series:
The FS-QS-1X10 Series is preloaded with two BAS drivers (two RS485 serial ports and one Ethernet port) Drivers from a list of over 150 protocols. There is a basic QuickServer that can handle up to 250 points and an enhanced QuickServer that can handle 500 points.
The FS-QS-1220 Series is preloaded with two BAS drivers (one RS485 serial port, one RS232 serial port, and one Ethernet port) Drivers from a list of over 150 protocols. Each QuickServer can handle up to 500 points.

Each QuickServer includes browser-based tools to make it easy to set-up QuickServer and perform diagnostics including determination of status, network settings, node information, map descriptors and more. The USB flash drive also includes the Discovery utility to determine what FieldServers are on a network.
BACnet MSTP
The BACnet Master-Slave/Token-Passing (MS/TP) driver implements a data link protocol that uses the services of the RS-485 physical layer. See the FieldServer BACnet PIC statement for the level of conformance that this driver implements.
All information in a BACnet system is represented in terms of objects. The Object_Identifier is a 32-bit code that identifies the type of Object (also identified by the Object_Type Property) and its "Instance" number, which together uniquely identify the Object within its BACnet device. Theoretically, a BACnet device could have over four million Objects of a particular type. The Object_Name is a text string, which has a unique capability. BACnet devices may broadcast queries for devices that contain Objects with a specific Object_Name. This can greatly simplify project setup.
BACnet requires one Device Object to be present in every BACnet device. The Device Object makes information about the device and its capabilities available to other devices on the networks. Before one BACnet device starts control-related communications with another, it needs to obtain some of the information presented by the other device's Device Object. Unlike other Objects, the Device Object's Instance number must be unique across the entire BACnet internetwork because it is used to uniquely identify the BACnet devices. It may be used to conveniently identify the BACnet device from other devices during installation.
Standard object types are used to hold real time data and other information. Each Object Type is referenced by a number, for example 0 represents an Analog Input.
Each Object consists of a number of prescribed properties, the main property being the Present_Value. Objects are monitored and controlled through their properties. The Analog Input Object is representative of the Objects involved directly with control elements and many of its Properties reflect this.
The information that follows describes how to expand upon the factory defaults provided in the configuration files included with the FieldServer.

M-Bus
The M-Bus driver allows the FieldServer to transfer data to and from devices using M-Bus protocol. The fieldbus connection is included with the FieldServer. The FieldServer can emulate either a Slave or a Master.
The M-Bus QuickServer Gateway is configurable to act as both a Master and a Slave M-Bus device. As an M-Bus Master the number of devices supported is limited to 64 devices since the FieldServer provides power to the M-Bus. The M-Bus Master interrogates the Slave devices as the gateway acts as a Master. It will request information from the Slave devices and receive and process only the expected responses. As an M-Bus Slave the maximum number of devices is limited to the M-Bus standard of 250. The Gateway will act as a Slave and will respond only to requests from M-Bus Master devices.

I'd like to inquire about the M-Bus to BACnet IP QuickServer Gateway FS-QS-1250-1146. Please provide me with a quote for this product.
Specifications
Classic QuickServer Gateway (Serial-Ethernet)
Classic QuickServer Specs: FS-QS-1XX0
Depending on what hardware you require, the specifications will contain different options. For Example, M-bus section is only available on the FS-QS-1x50/FS-QS-1x51 devices where x is A for 16 devices, B for 32 devices and C for 64 devices. See images below for Port Support and product code check.


Environment
Operating Temperature: -40 to 75oC (-40 to 167oF)
Relative Humidity: 5-90% RH non-condensing
Power Requirements
9-30V DC or 12-24V AC, RS-422 = 15-30V DC or 12-24V AC, M-Bus = 12-24V DC (Slave: 550 mA, Master (1 Slave): 580 mA, Master (64 Slave):980 mA); 240 mA
Physical Dimensions
Dimensions (WxDxH): 4.5x2.9x1.6 in (11.5x7.4x4.1cm)
Weight: 0.4 lbs (0.2 Kg)
Other
Configuration/Diagnostic utilities
Capacity, max points: 250 for QS-10XX, 500 for QS-12XX, 3000 for QS-13XX, 5000 for QS-14XX
Table, Wall or DIN rail mount
Communication
Baud: 4800, 9600, 19200, 38400, 57600, 115200
Start Bit: 7, 8; Stop Bit: 1, 2
Parity: Even, Odd, None
LonMark Certification (FS-QS-1XX1)
SPID: 80:00:95:46:00:84:04:01
Profiles: 0000 - Node object, 0001 - Open Loop Sensor Object, 0003 - Open Loop Actuator Object
Ethernet: 1, 2
Parity: 10/100 BaseT
Approvals
TUV Approved: to UL 916, EN 60950-1, EN 50491-3 and CSA C22.2 standards
BTL Mark, RoHS Compliant, GOST-R Certified, CE and FCC
LonMark Certified: (FS-QS-1011/FS-QS-12X1)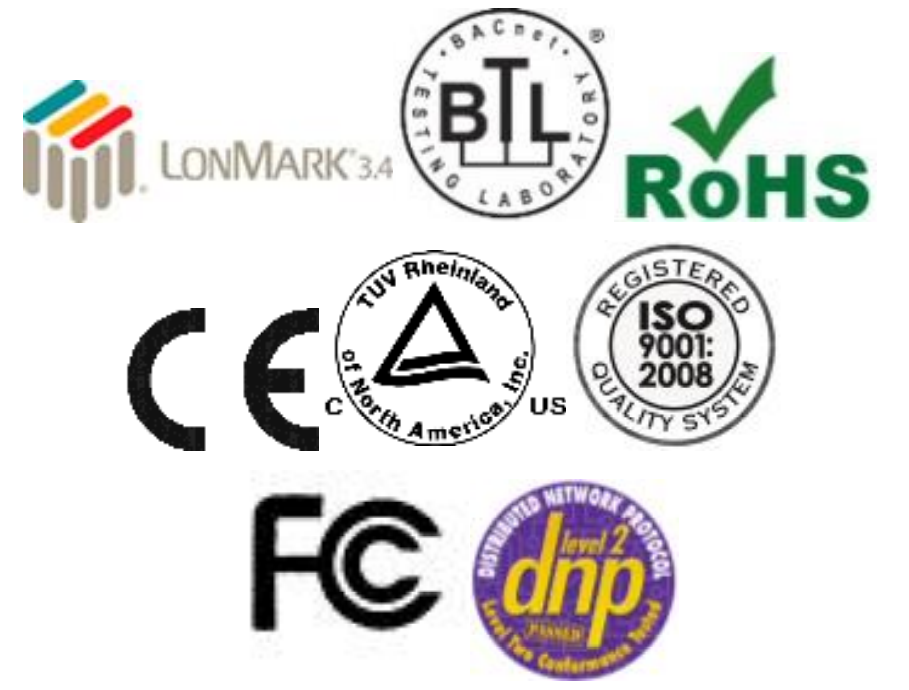 Additional Information
BACnet MSTP to IP
A BACnet Router is used to connect MSTP trunks to BACNetIP systems. The router itself is a device on the IP and on the MSTP side. The router can also act as BBMD device allowing messages to cross from one subnet to another.
BACnet BBMD
BACnet messages cannot cross from one subnet to another except under special circumstances.
Most BACnet sequenc es of messages begin with a broadcast called 'who is'. All devices respond with 'I am'. That is how they are discovered. It is also how many system confirm the device is still there.
Broadcasts can't cross routers (they are blocked) and therefore devices on the other side of a router cannot e discovered.
BBMD is the name of the BACNet technology that resolves these issues. The BACNet ROuter sold by CAS provides BBMD services as do all FieldServer BACNet products when configured as clients.


Useful Links
Logos